At a time when whole humankind is mad after sanitisation, a multi-purpose advertising tool can help brands to easily grab eyeballs, keep potential audience engaged, expand footprints, and meet branding objectives.
With people in our country are not yet so serious about the Coronavirus pandemic, it's time for brands to make out their mark by using the most viable means to communicate with their potential buyers and disseminate right information to stay safe and stay healthy. Communicating right information will not only add to the brands' goodwill but would also offer a much-needed brand recall. At this time, brands/corporates do have the opportunity in the form of certain responsibility to spread awareness and encourage the right spirit amongst their consumers.
And the time is right for signage industry stakeholders to come up with such solution that can help brands in meeting their twin objectives of promoting their brands through the apt communication tool which can also prompt clients to stay healthy not only during this challenging time but ever after. One such solution can be digital signage combined with hand sanitizer dispensing unit, which the signage vendors can offer to their respective clients/brands to help them remain connected to their target audience.
What would these units be like?
The hand sanitising digital signage kiosk features an internal auto-dispenser providing gel, foam or liquid sanitizer as well as a metal closing with an integrated commercial grade display offering advertisements, infotainment, educational-based content, messages, videos, news feeds, social media feeds, health information and other content to customers as they sanitise their hands.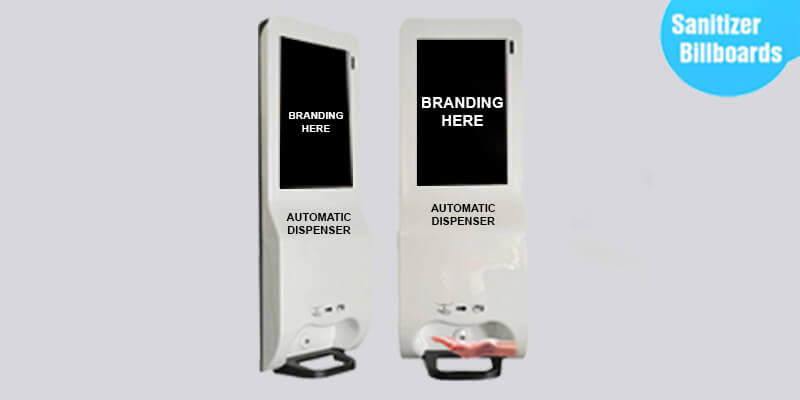 Why?
With the current health scare the public has become open to preventing the spreading colds and cases of flu. The hand sanitizer kiosks can offer brands/corporates a unique way to encourage people, many of whom can be their potential clients, clean hands while being able to share messages and media via the kiosks built-in screens. 
What are the prospects?
It can be hit for sure especially when it comes to branding purpose. This is because, according to the recent health tip issued by World Health Organisation, washing hands is the number one suggestion for staying safe these days and afterwards. And at this moment of crisis, branding or promotional tools like these either wall-mounted or floor-standing can help businesses and customers alike. 
How?
Suppose, if some brands offer free hand sanitizer to the public by installing these units at places like hospitals, clinics, malls, airports, sports grounds/complexes, schools, hotels, gyms, etc.; none can stop them to embrace it and they would automatically walk-up to the units. While at the units, they will be able to watch/see the content playing on the attached/inbuilt screen. 
Application Areas:
All the public spaces like hospitals, clinics, malls, airports, sports grounds/complexes, schools, hotels, gyms, etc.
Opportunities for Signage Makers:
It can help generate revenue for those who want to build their own media network throughout the country by offering brands an innovative and useful tool for advertising purposes at this time of crisis and afterwards.
It can also be used on rent as a capital regenerating tool for signage makers.
Big brands can use it for their promotional purposes at their own stores.
If equipped with remote content management software, it allows logging-in from PC to update, schedule and mange all the dispensers installed at various locations.
Conclusion:
In short, for organisations/corporate that are stranded in the middle of this pandemic or otherwise and are wandering for ways to get connected with their clients to keep them flooded with information – general, about their brands or topic-specific – this digital signage display combined with hand sanitising unit can help them meeting their objectives.