Raising the curtains on the latest advertising trends and technologies, Media Expo New Delhi 2022 is up and running at India Exposition Mart Limited, Greater Noida. The trade fair features 23 first-time exhibitors among the 130+ exhibitors on the show floor, bringing together a vibrant display of over 250 products and technologies.
Industry's preferred sourcing destination for advertising and branding solutions, Media Expo is in ­action at India Exposition Mart Limited, Greater Noida. The 49th edition in the series was inaugurated today by renowned industry figures, including:
Mr Madhu Sudan Dadu, Managing Director, Colourjet India
Mr Tejinder Singh, Director, Colours Digital India Pvt Ltd
Mr Girvir Singh Negi, Managing Director, Negi Sign Systems & Supplies Co.
Mr Iain Wallace-Strategic Development Manager- MetaMark (UK)
Dr Franco Bandelli, Managing Director, Gildo Profilati (Italy)
Mr Atul Goyal, President, Delhi Printer's Association
Mr Raj Manek, Executive Director & Board Member, Messe Frankfurt Asia Holdings Ltd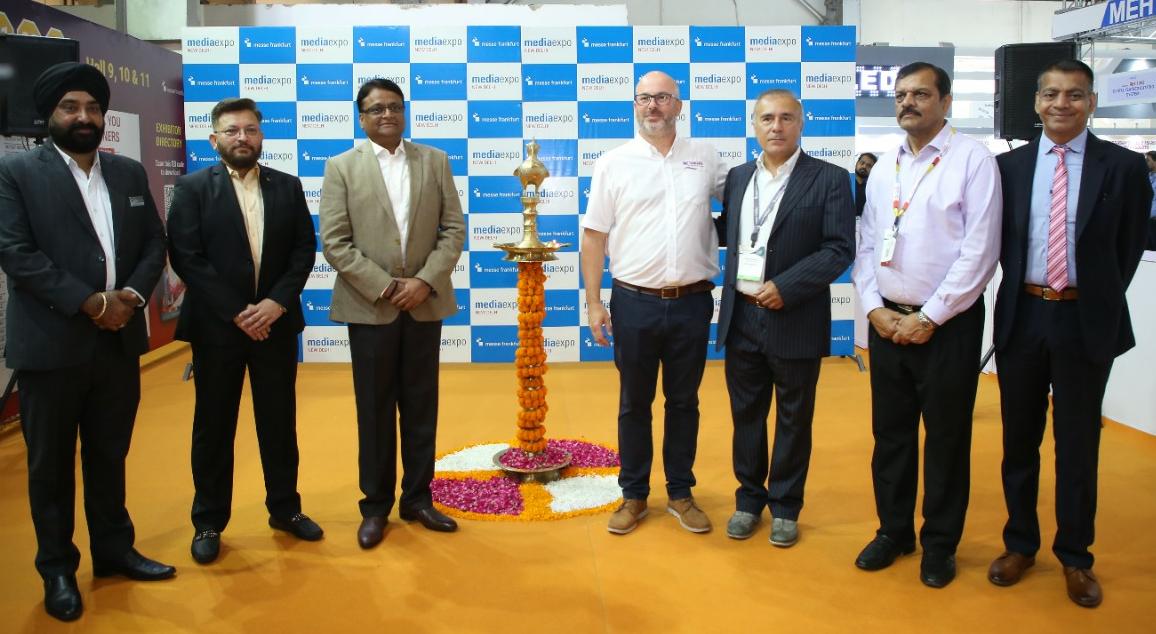 Media Expo New Delhi 2022 features over 130 exhibitors, including 23 first-time participants to demonstrate over 250 tools and technologies for printing, signage, indoor and OOH advertising.
Many brands have launched their newest innovations on the show floor, such as ColorJet Group. Elaborating on their latest product offering, Mr Smarth Bansal, Brand Manager, ColorJet Group, shared: "This year, we have unveiled a brand new product as part of our Vulcan Series – Vulcan Prime, which is designed to print on PVC free materials thereby contributing to a sustainable printing ecosystem."
Arrow Digital also unveiled their state-of-the-art large-format printing technology at the fair. Describing the benefits of their new technology, Mr Sam Patel, CEO & Managing Director, Arrow Digital Pvt Ltd, stated: "We are glad to launch Canon Colorado 1650 with FLXfinish+ at Media Expo New Delhi 2022. This ingenious technology maximizes the UVgel advantage with either a single or a two-step curing strategy. FLXfinish+ offers a choice between a gloss or a matte finish, and even both on one print. All this without the need to change inks, media, or an extra varnish channel."
As an all-encompassing sourcing platform, the trade fair showcases cutting-edge printing technologies, static and digital signage, retail displays, fabrication technology and consumables. Furthermore, it also allows creative professionals, buyers, distributors and traders closely interact with manufacturers and forge a long-term business relationship.
The trade fair is also supported by chief industry associations such as Bombay Master Printers Association, Delhi Printers' Association, Federation of Airport Media Owners (FAMO) and Mumbai Mundrak Sangh.
Through its extensive technological showcases, Media Expo New Delhi 2022 will highlight the evolving advertising trends during the remainder of its three-day show.