Arrow has pioneered many groundbreaking technologies and has been a leader in the digital printing/cutting field for decades; providing digital printing solutions to the Indian market. Arrow is excited to expand its Portfolio with Canon Wide Format Roll to Roll Printers.
Mr. Sam Patel, CEO & Managing Director, Arrow Digital Pvt. Ltd. adds, this new expansion will enhance our portfolio of Roll to Roll Printers. Canon has a well-known reputation globally in terms of robustness, reliability, efficiency, and productivity and with this partnership, we see great achievements ahead.
Mr. Patel adds, the Colorado 1650 and 1630 are packed with innovations, it is a 64 inches Printer with a resolution of 1800dpi, the new flexible inks and FLXfinish enables you to enjoy a wider application range with jaw-dropping quality, advanced productivity, all this at the lowest cost of ownership. The Colorado Series works with a new generation of Canon UVgel ink, UVgel 460 inks are designed for maximum flexibility by increasing the 'stretchability' of each cured ink droplet. Output from the printer can be bent and folded for soft signage applications, without risk of cracking. It can produce endless applications such as self-adhesive vinyl, wall coverings, canvasses, soft signage, frontlit & backlit graphics which demand a high degree of flexibility. The Canon UVgel inks are odorless and certified with GREENGUARD Gold, Type II by ASTM, allowing them to be safe for indoors. They are also certified by Media Partners for 3M- Performance Guarantee and Avery ICS.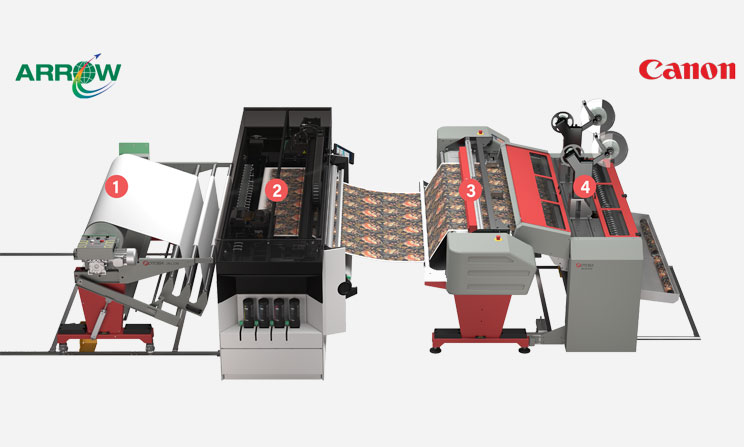 The Colorado Series incorporates FLXfinish, a new approach to LED curing which allows the user to choose between matte or gloss modes for each individual print to achieve different aesthetic finishes, without the need to change inks or media. A gloss finish gives visual impact to applications such as banners and posters, while a matte appearance is particularly appealing for high-quality indoor applications viewed in artificial light, such as wall coverings or premium Instore Point-Of-Sale materials. FLXfinish technology also enables printing on porous media, such as uncoated papers, as well as soft signage materials such as textiles and silicon-edged graphics, by enabling each ink droplet to be 'fixed' immediately on jetting, preventing absorption by the substrate.
The Colorado Series features exact positioning enabling near-perfect registration for double-sided printing and 'inside out' printing for media wound with the printable surface facing in, further boosting productivity and versatility.
The PAINT nozzle monitoring feature enables continuous monitoring of nozzles with Piezo Acoustic Integrated Nozzle Technology (PAINT) and gets corrected if needed. Maximum confidence for unattended printing. UVgel ink when combined with LED curing creates jaw-dropping applications. Canon works with ONYX Thrive software delivering a scalable print production solution. The result is true end-to-end PDF workflow, from digital file submission through color management, printing, and cutting. ONYX Thrive Production Manager browser-based user interface enables workflow control from anywhere, helping to optimize both operator and output device productivity.
Mr. Patel adds, with Canon Colorado Series you can produce designer wallpaper, stunning decals, or luxurious front and backlits that make people stop and take notice while meeting tight deadlines with low cost of ownership. You can delight your customers with glossy banners that stand out from the crowd or wallpaper with the right deep-matte finish and brilliant colours, all printed on one device. No need to change inks or media. Canon Colorado Series powered by UVgel technology will open up new opportunities and possibilities for the Indian Market.