Media Expo Mumbai 2019 kicked-off with 22% growth in the overall exhibition space and 11% growth in the total number of exhibitors this year. Adding to the progressive highlights of the show, this edition witnessed a list of fresh entrants with 20% increase in the new exhibiting companies. With a wider range of products, live product demonstrations, and the launch of a seminar alongside the show, the trade fair will serve as a complete package for the indoor and outdoor advertising professionals.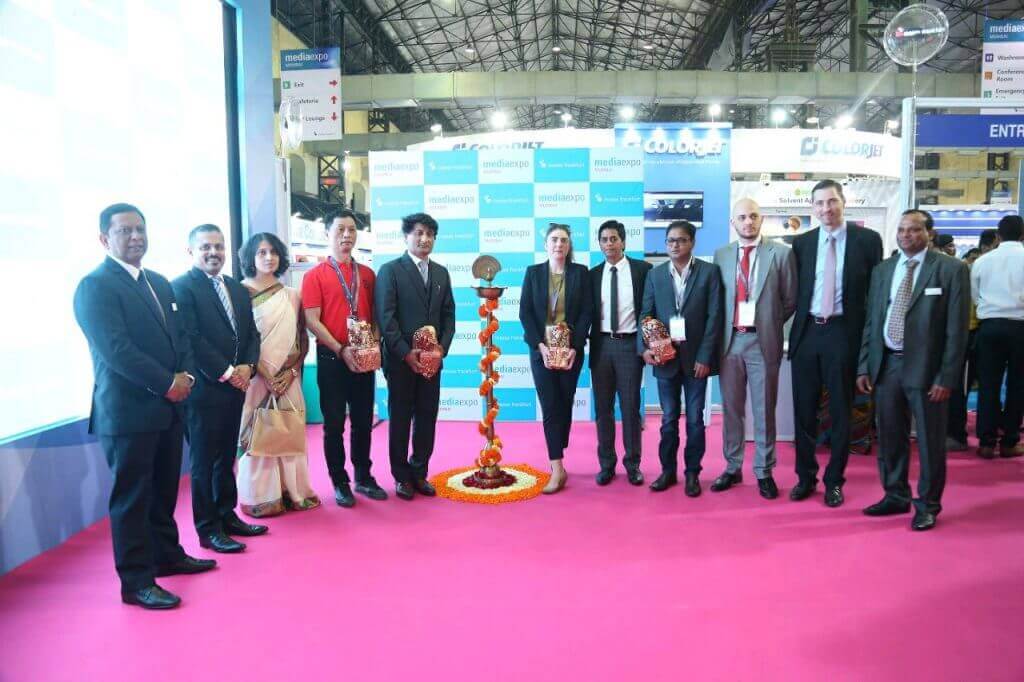 The show that commenced today was inaugurated by:
Tejasa Purandare, CEO, Cosign India Pvt. Ltd.; Shailesh Mehta, Managing Director, Mehta Cad Cam; Tiger, Managing Director, Chanlong Manufacturing; Santosh Nair, Country Category Manager – Sign & Display, HP; Deborshi Paul, Business Head, Apsom Infotex; Taner Can Guven, International Sales Manager, Optium Digital Planet/SMK Digital; Caroline Bonnatoux, Marketing Manager, Encres Dubuit, Winston Pereira, General Manager, Messe Frankfurt Trade Fairs India Pvt. Ltd.; Michael Dehn, General Manager – Sales & Marketing, Messe Frankfurt India Pvt. Ltd.
The renowned trade exhibition for the indoor & outdoor advertising and signage industry has hosted top names from the industry like Colorjet India Ltd, Epson, Infotex Solutions, HP India sales Pvt. Ltd., Timex Bond Industries Pvt. Ltd., Mehta Cad Cam Systems Pvt. Ltd., Rex Tone Industries Ltd. and AT Inks and Mimaki India Pvt. Ltd. In addition to the constant and trustworthy brands at the show, this edition has also welcomed many new entrants like Chanlong Manufacturing & Trading Pvt. Ltd., Insight Print Communications, Trinity Ink, Daoming Reflective Material India Pvt. Ltd. among others. Overall, the show affirms a 22% surge in the total number of new exhibitors providing a wider range of solutions and technological advancements for the visitors.
With an increase in the exhibitors, the show aisles are filled with live product demonstrations and technological displays. Some of the products showcased at the trade fair are:
1. Launch of the first water based flatbed printer platform: Latex R series by HP India Pvt. Ltd.
2. Launch of MFLEX tracker, a web based application for large format printers that is end to end encrypted, can track and estimate wastage and customer alert manager for false printing by Morya Enterprises
3. Aidio All-In-One android touchscreen displays pre-installed applications for visitor management, queue-management and interactive digital signage by Aiddition Technologies
4. Unveiling the newly launched Massivit 3D, EFI™ H1625 LED, entry level production printer and Kornit Storm II that are industrial digital direct to garment printers that can be used for advertising by Arrow Digital
5. 6 Color Wide Format 3.2 Mtr Eco Solvent technology to promote green printing on fabrics by Colorjet Group
6. 3D Hologram Fans that can be used to increase customer interaction and recall by Majix Tech
7. Range of fire retardant ACPs designed with self-extinguishing mineral filled core and pure aluminium core, which reduces the intensity and spread of fire by EuroBond
8. Inflatable advertisements designed to be full of air that are suitable for all types of commercial and signalling by Hyderabad Inflatables
9. PAL-2513UV flatbed printer that is loaded with features like anti-collision system, ink tank heating system, and water cooling LED UV light by Pal Associates
10. 100% cotton biodegradable and eco-friendly advertisement banners that are compatible with solvent, eco-solvent, UV and latex inks; easy to stretch and fold by Shivatex
11. DCC Dye sublimation printers are designed from the ground up for high fashion, fast fashion and performance apparel printing featuring a robust print mechanism by Rutland-DCC Ink Manufacturing
12. Mirage DTG from Azonprinter, from Croatia especially designed for industrial use that is capable of printing on T-shirts, sleeves, jeans, apron, cloth panels and more by Skyscreen India
The leading show for the Indian advertising, printing and signage industry has also announced its first knowledge oriented seminar, alongside the show. The two day seminar 'Signage, Outdoor Advertising – Technology and Innovation' (SOTI) will focus on strong topics like impacts of advertising on road safety, emerging trends and digital future of India. The two day conference will host media and advertising experts and professionals who will talk about the future of Indian advertising market and ways to enhance customer satisfaction.
Scheduled till 23 February 2019, business visitors can source and network with leading names of the industry at Bombay Exhibition Center, Mumbai.