The future of digital printing is not bound to stick to any particular technology forever, but UV is expected to rule over the signage industry for now.
Introduction
Signage is a traditional promotional tool that has been in the use for ages, especially for the purpose of marketing and advertising in the form of signboards, billboards, hoardings, banners, etc. Over the years, it has seen rapid transition, and now after the ban on flex by few states in India, fabric has entered the signage market as an alternative. Although this change was not sudden, yet it again brought focus on the discussion over the type of printing technology to be used in time to come.
The run for greener solutions has pushed the growth-conscious manufacturers/suppliers to upgrade themselves to a newer printing technology i.e. UV. However, quite a few of them are still indecisive whether to opt for UV or sublimation to stay competitive for longer. This is also because when it comes to printing over fabric, sublimation is being practiced from decades. Many such suppliers/manufacturers of technology are of the view that UV will rule the roost, while some are pushing sublimation as the green printing solution.
Digital Printing & Soft Signage
Digital printing in signage industry has come of age. As there is a very strong push for soft signage or for that matter digitally printed fabric signage, the on-going discussion on the appropriate printing techniques has created a kind of ambiguity. No wonder the ban on flex in some states has opened up the way for alternate materials, say for instance, polyester–based textile or natural fiber such as cotton or cotton blend. While some are compatible with all the inks, others are limited to a particular ink set.
Meanwhile, the use of soft signage is evolving to encompass range of applications, including trade show graphics, backlit displays, retail store décor elements, flags & banners, etc. With this, growing continuously is the number of ink sets. Initially dominated by paper transfer sublimation inks, the market has now grown up to include direct sublimation or disperse inks, UV flexible inks and latex inks. Here, it is important to note that UV digital printing has evolved so much that it can print on anything irrespective of substrates.
In our quest to know how digital printing industry is shaping up with special reference to wide format, we at Sign & POP World met with select players – Fujifilm, Monotech, Mimaki & Mehta Cad Cam. All of them insisted that UV technology will continue to dominate for now, while there are also a few voices strongly favouring sublimation technology backed by a subtle reason that this technique is greener than UV.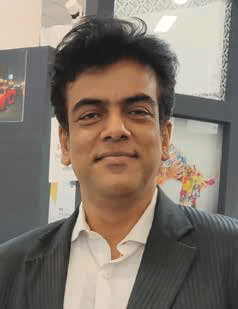 The Transformation
Pradipta Chowdhary, Senior Product Manager, Fujifilm India Pvt. Ltd., rightly says, "The signage industry has seen a series of transformations especially when it comes to technology. It goes as per the market demand. What we foresee is that not only the contemporary but also the near future era will be of UV technology in all segments including retail, outdoor, backlit, etc. wherever signages are used."
According to him, two years back UV was restricted to places like airport, malls, etc. "Now people have started understanding the application of UV technology and the special attributes attached to it. They know that printing gets improved if done with UV technology. If it's backlit, UV is the best option. If there is a green concern, UV is the only option. If a hoarding is to be printed, UV is the perfect one."
Chowdhary agrees that UV is costly for now. "People start cutting their corners as the alternative stuff is so cheap. Why Apple doesn't prefer its hoarding on solvent? This is because there is a fear of dilution of the brand. And when same hoarding is put to UV, the colours are different. Even the backlit gets improved. So, they stick to a standard technology to maintain their brand image."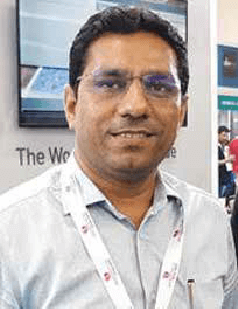 Echoing the sentiments, Manoj Kumar Garg, National Product Manager-WFG for Monotech Systems Ltd., says, "Definitely, UV segment of the digital signage market is going very high. For now, the shift is from solvent & eco-solvent to UV. Almost 20-25% has already been shifted in last two-three years. We see a very bright future for UV technology without the implication of any other better technology to come in near future."
Garg adds, "Right now since the economy is not on track, we too are facing some slowdown. Meanwhile, there is a wave of ban on PVC-based media, which is giving a push to the replacement market wherein alternate media is getting introduced. Actually the media is there, but the price is a deterrent. A lot of options have come in the market. Manufacturers like Arvind, Eco-Sign, Sun Fabric, etc. have come up with best possible alternative to flex. Exploration is still on and the market is wide open for any new player to move in."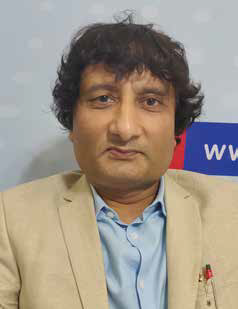 Shailesh Mehta, Director, Mehta Cad Cam Systems Pvt. Ltd. has almost the same opinion that the market is shifting from low resolution to very high resolution printing quality. "The awareness level has been upped. Big manufacturers, in order to maintain their position, are shifting to higher quality of printing machines and bringing in high speed printers, most of which are in UV for now," he says.
He also maintains that this shift in the digital printing industry is very big in itself as it will push the small players out. "They will gradually go out of business as the sustainability would become a problem for them. Also, the profit margin is getting reduced for them with each passing day as the competition is escalating and bigger new entrants are making inroads."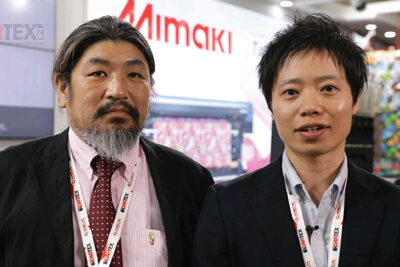 Talking a bit different from the league, Yoshimoto Sugiyama, MD, Mimaki India, along with Daisuke Yamane, Sales Manager-North & South India, opine, "Lot of ecology conscious customers are coming now and in some states, plastic or PVC-based media is already banned. Industrial signage material is also using plastic. So, companies are really indecisive whether to invest in UV machines or eco-solvent and other machines. Most of the brands are shifting to UV machines, while the wave is also towards sublimation for soft signage owing to the ban on PVC-based media."
Amidst all these opinions inclined exclusively towards UV printing technology, stakeholders also suggest that soon there will be only eco-friendly printing solutions wherein media is set to be PVC-free, recyclable and bio degradable. This has further got cemented with the recent order issued by Kerala Government, wherein it is not allowing any material but green. Anticipating further that this drive will turn out to be a nationwide movement, they take it as a clear hint that digital printing industry is taking a stride towards soft signages, sooner than later.
There are claims that the alternative to flex has already entered the market and is waiting for corporates to take the lead. Players like Sun Fabric, EcoSign and Arvind claim that their media is PVC-free and are not only recyclable but also bio-degradable. So, what should those players do who have recently invested in PVC-flex manufacturing units? It is also important to note that switching over is not going to happen with immediate effect. This is despite the fact that change is very much visible.
The Expected Overturn
Experts feel that the indicated overturn will take some more time as many states are yet to strategise and impose restrictions on flex to be used as publicity material. However, they suggest that the time is not very far and flex manufacturers should start transforming & upgrading their manufacturing units so as to get engaged in developing eco-friendly PVC-free media instead of going after flex for which there doesn't seem any respite in time to come. This is also because corporates have started shifting to soft signage.
Are all these developments making way for sublimation technology? "See, technologies are meant to move on. Sublimation may become the next stop for green printing solution in signage industry. Although sublimation is an older technology in garment & apparel sector, but it is all new in the signage industry following the invasion of soft signage and introduction of fabric into this segment," says Chowdhary adding that unlike other printing technology, sublimation has its own limitations.
He suggests that the current printer operators' fraternity comes with a background of painting. "These operators don't have any idea of printing on fabric and pre- and post-treatment of the same. They neither know the fabric nor the process. They need proper training of all this, in the absence of which, printing on soft media may not be possible for them. Further, sublimation has a whole lot of stages like pre-coating, printing, transferring, heating, drying, etc. They need to understand the complete process."
Similarly, Mehta also advocates use of UV technology. Not only is that it in demand for now, but also because of its superiority over the conventional solvent and eco-solvent printing. "Right now, we are manufacturing only high quality printers, which the industry is asking for. In our machine, we use controllers from Switzerland for uninterrupted operations, that too with high speed and high resolution. Further, we keep incorporating new technologies and features as and when these are available to the market," he says adding that he is soon going to expand the portfolio by launching DTG printers.
Mehta entered in the wide format printing around two decades ago when it had launched Flora. "Then, we were not manufacturing but sourcing from outside India. Now our strength is manufacturing and we are trying to develop as many new & innovative printers as we can. This doesn't only provide us the opportunity to control the quality of our final products by keeping a constant check on complete manufacturing process, but also allows us to offer two-year warranty on our printers."
Garg favours the invasion of UV printing for now and eliminates the possibility of signage industry shifting over sublimation in near future. "We all know that the market is extra sensitive these days. With various regulatory measures being initiated from the government side, demand for eco-friendly printing solutions has increased. This made us focus on offering solutions with UV inks, which are eco-friendly. Also, printing on various recyclable medias instead of PVC flex helps reduce environmental hazards," he clarifies.
Garg asserts that the manufacturing capabilities at Monotech are unique. "This is because we have most of the things in-house. This offers us the opportunity to design products that the market asks for. Being a manufacturer, we can understand the market needs better and accordingly develop products so as to perfectly meet the specific requirements. Further, we keep educating the market to drive the eco-friendliness in the digital printing segment. We let them understand the benefits attached to it."
Expanded Options with UV
In the meantime, with the coming up of stringent rules around environment-protection, such as ban on flex by some of the states and the restrictions on the use of solvent technology, there has been a change in the landscape of the signage industry. Drives like this have triggered many PSPs to opt for more sustainable options, to remain on the safer and greener side. In all, sustainability has become a buzz word in the signage industry. No wonder, majority of the printer manufacturers as well as suppliers are pushing eco-friendly solutions.
Monotech has come up with a couple of UV printers Pixeljet 3218 RMO hybrid printer and Pixeljet Powerpro 3.2-m UV LED roll-to-roll printer with Ricoh Gen6 printhead. The Pixeljet 3218 RMO is a UV hybrid printer with high-speed LED UV curable inkjet system which offers the capability of printing a large size on a rigid as well as soft media. Ideal for short- to high-level production of multiple jobs with different sizes of media, it also offers media edge-to-edge printing that eliminates the need of extra finishing step, saving time and money.
"With printing speed of up to 450-sqft/hr, Pixeljet 3218 RMO hybrid printer is designed to deliver exceptional print quality on a wide variety of rigid media including corrugated sheets, plastics, acrylic, glass, foam boards, exhibition panels, wood, aluminium, MDF, etc. and wide range of flexible media," says Garg.
The Pixeljet Powerpro is dedicated roll-to-roll UV LED-curable printer, and comes in two versions – 6-colour and 4-colour plus white. Equipped with Ricoh Gen6 printhead, it can print on a wide range of flexible media for indoor as well as outdoor applications and helps users save energy, cost and time. "The four-colour plus white version stands out by its ability to print white in different modes, improving the opacity of the printed material as well as increasing colour contrast and readability," informs Garg.
Mehta Cad Cam has recently added RasterJet RJ1802R LED UV inkjet printer to its portfolio of LED UV Inkjet printers. Equipped with Ricoh Gen5 printhead, the high speed, high precision 3.2 meter wide robust UV LED printer is compatible with a variety of rigid substrates as well as flexible media. Escorted with Linux-based virus-free operating system enables PSPs to process even large file at high speed. Back to back printing (3 layers CMYK-White-CMYK) is possible in single command with RasterJet UV printers.
"Optimum droplet sizes are automatically selected from 6PL to 30PL for each print mode. Moreoevr, RasterJet UV printers can separately control droplet size for process colour (CMYK) and spot colour, which makes it useful for simultaneous double layer printing Small droplets are used for colour printing to present a delicate finish, and large droplet are used for white-base-layer printing to obtain high opacity," explains Mehta adding that being one of the oldest manufacturers, Mehta printers are giving tough competition to the Chinese machines.
Fujifilm India's range of Acuity printers with LED UV technology come in three variants — roll-to-roll for printing on substrates such as flex, vinyl, and fabrics; flatbed printers for printing on rigid substrates, and the hybrid printer which can function as a roll-to-roll as well as a flatbed printer. The latest in the list are Acuity LED 3200R and Acuity EY printers.
The Acuity LED 3200R can produce quality super-wide display and exhibition graphics in the most cost-effective way. With low energy LED UV curing technology, it delivers excellent production efficiency with impressive productivity. Its specially formulated Fujifilm Uvijet inks can print on a wide range of display materials.
The flatbed Acuity EY offers the perfect combination of near photographic print quality, production output and investment cost. With Uvijet inks the Acuity EY can print on to a broad range of rigid and flexible PoP materials up to 48-mm thick and the white ink option provides an opportunity to print high value materials like wood, metal, clear and coloured products.
Acuity EY gained traction for its price competitiveness and has helped Fujifilm gain the maximum installations in the signage and graphics industry. The latest launch under the Acuity range is the Acuity Ultra Series with maximum widths of 3.2-metres and 5-metres.
Shift is Imperative
Four years back, in 2015, only a few UV technology suppliers were around as customers weren't willing to put their bet on UV. Now that the run for environment-friendly green technology is clearly visible, the signage market is looking at UV as one of the possibilities. Although India's signage industry is still dominated by solvent and eco-solvent, UV has definitely got the needed pace. Experts believe that currently, 20-25% of printing is happening on the UV space, which will change to approximately 50% within the next two years. And soon after, 60 to 70% of the printing will be done with UV technology.
"One thing is sure that the market is shifting from low to very high print quality owing to the higher awareness level among the end-users. No wonder, big manufacturers are concentrating on developing higher quality machines. High speed printers are the outcome of the same. With each passing day, these machines are becoming more stable in terms of technology and enhanced features. UV roll to roll printer will also grow in time to come," shares Mehta adding that the current scenario leaves little space for small players as sustainability would become difficult for them owing to their reduced profit margins.
According to Chowdhary, along with the technology, the media will also become more environmental-friendly with many innovative substrates slowly coming into the picture. "We understand that the traditional substrates will slowly fade away. It is quite evident that the change is happening as the fabric is occupying more of indoor applications. And if there is a shift from flex to fabric, it is obvious that the shift in the choice of technology would be from solvent or eco-solvent to UV because the machines, processes, and functionality all are same," he suggests.
Garg implies that the ban on PVC-based media is giving a certain push to the media replacement market. "The shift is there in the market from PVC-based flex to non-PVC material. Quite a few players are coming in with their own respective claims to have compatible media, which are both recyclable and bio-degradable. The market is still indecisive owing to the price-sensitive nature of the Indian consumers. Not only the material but technology is also getting the needed shift from solvent or eco-solvent to UV. And we are offering no different," he avers.
UV vs Sublimation
Product branding and versioning enables brand owners to reinforce their brand identity and reach customers on an individual basis. It is not uncommon to see chain stores using wind feathers, mesh and woven polyester banners, wallpaper, and other unconventionally printed substrates for their advertising purpose, although finishing as a whole still remains a crucial element for all soft signage applications. For now, there are a range of vendors providing soft signage systems using sublimation as well as UV inks.
"I really differ. I don't know why someone would pick up sublimation over UV for applications like backlit, which is the major contributor to a PSP's income constituting almost 80%. Sublimation is only restricted for backlit job, while UV can do any job without any restriction. This is why it is difficult to stop the use of UV in the signage industry," says Chowdhary adding that it is not only backlit but also hoardings where sublimation can't take over UV.
"When it comes to hoardings, it will never be sublimation because it doesn't offer the required depth in the signage. Also, when it is a 10-feet hoarding, sublimation becomes an expensive affair with a separate heat-transfer process. In fact, it requires a complete set of machines including a sublimation printing machine, a calendar, a heater and a padding machine. On the contrary, UV machine produces final output in one go without any pre- or post-treatment of the media thereby making it easy for both brands and PSPs," elaborates Chowdhary.
Conclusion
Digital printing, particularly for soft signage applications, provides an attractive service opportunity for sign printers who are looking to expand their offerings and increase their clientele. It is a fact that the advent of UV technology has lowered the barrier to entry and widened the range of possible printing media. Thus, advantages of UV printing are not restricted only to signage industry, but opening up of the doors of opportunities for PSPs to expand their businesses.
They are now offering printing solutions on other substrates and are catering to the need of commercial entities, especially the rapidly growing retail industry. Besides, UV has also made possible a range of décor applications which include wall coverings, curtains, front-lit tension fabric displays, branded umbrellas, table throws, etc. It is not surprising when industry experts unanimously assert that UV has another 10 years to rule over the signage industry for its quality, specialties and compatibility with variety of materials.