The printing industry in India continues to flourish with numerous advanced technologies coming in, one of which is the innovative trend of printing directly on rigid media. It has helped clients in exploring and experimenting with different designs, textures and colours.  
Printing industry in India has seen unprecedented changes over the last decade. A lot has changed in the way printing was done in India. From solvent and sublimation printing on flex and fabric, the technology has taken a giant leap by incorporating multi-media printing in a single machine. Thanks to the UV LED printers that can either be roll-to-roll, flatbed, or the latest innovation in the form of hybrid, direct printing is now possible over both flexible and rigid media.
Today with this possibility of direct printing not only on flexible media but also rigid media, the scope of UV printers has increased manifold, opening up the doors of opportunities for printing industry stakeholders. It wouldn't be wrong to mention that there is no limit to the options offered by UV printers; the limit is only in imagination.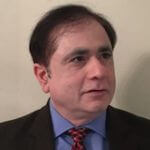 According to Research Nester – a market research company, global UV LED printer market reached $278.3 million in terms of size in 2016 and is expected to reach $555.5 million by the end of 2024, expanding at a CAGR of 9.2%. Throwing light on the scope and size of printing industry in India, Sameer Patel, Managing Director & CEO, Arrow Digital Pvt. Ltd., says, "The Indian printing industry stands at $11 billion, and is growing at 12% annually. However, giving a rather optimistic outlook, UV printing is riding higher at 30%. As per the IDC report, UV printer market grew 11.7% quarter on quarter & 38.5% year on year in Q1 2018 in India."
The growth of UV LED printer market can be attributed to the wide scale applications of UV LED printers such as printing, packaging and labelling of products, as well as printing on wood and other substrates. UV flatbed printers can be used in both commercial and industrial applications as there is no restriction to the kind of medium that can be used in these printers. They can print upon substances like metal, wood, glass, rubber, carpet, doormats, ceramic tiles, switch panels, mobile phone covers, signage, wood composite panels (WPC), foamboard, sports equipment, etc. There is a lot of use of these printers in industrial applications as well, for example, printing on equipment and parts, microchips etc. Thus, it has given a new meaning to printing, and has made it much easier, cheaper and quicker.
Imprinting Their Way into the Printing Industry
India has seen a tremendous growth in UV printing industry, and some biggies in this field are taking it to the next level. One of the pioneers in the industry, Fujifilm has created a name for itself in wide format printing. The company's graphic art segment offers computerised printing plates, image scanners and other digital printing and publishing equipment and materials. It provides advanced solutions for multiple stages of the printing process — from scanning and prepress to plate-making and proofing.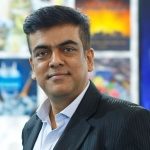 Pradipta Chowdhary, Senior Product Manager, Fujifilm India Pvt. Ltd., explains, "In India, buyers and vendors in the printing industry are accepting the change in technology. Now they are relying more on UV printers because of the various advantages they offer such as better colour quality, ease of print, as well as, the possibility of direct printing on a variety of substrates including rigid ones. Thus, it has opened a door of new opportunities. Apart from the high quality printing, UV printers also make the process convenient as it has reduced the number of steps required. Earlier, one had to take out the print on vinyl and then paste it on sunboard or any other substrate for that matter, and laminate it. Now, no such steps are required."
On company's standing in the printing market, Chowdhary says, "Fujifilm is number one as a brand at this point in time and we have sold 102 printers in the last one year. We get a lot of enquiries and we are a preferred brand, customers have seen the fantastic journey of Fujifilm because of its quality."
When it comes to UV digital printing, ColorJet India Ltd. is a name to reckon with. Having installed over 3,750 machines across 315 cities around the world, the company boasts of being India's largest manufacturer of digital inkjet printers with a presence in 14 countries. Founded in 2004, the company maintains its operations via two manufacturing facilities and sales offices spread across seven countries, which include India, China, Bangladesh, UAE and Sri Lanka. The Technological Innovation Strength of ColorJet's R&D department has been recognised by the Department of Science & Technology, Government of India.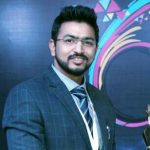 Commenting on the bright prospects of UV technology, Smarth Bansal, DGM Product/Brand Management, ColorJet India Ltd., says, "Industries evolve as the years go by, and the printing industry is no exception. With regard to UV print technology, the fact that it can print on a wide variety of substrates using special inks, helps print service providers and others to expand into additional markets and attract new customers. We have recently come across 400 factories manufacturing well-designed fancy iron almirahs in Haryana, and they are delivering almost 20 almirahs per day. Eventually, it has increased the demand of our UV products, especially Verve LED Flatbed printing machine, which enables high quality direct printing on almost any kind of rigid material, including iron, wood, glass, leather, ceramic tiles, etc."
ColorJet has sold more than 50 flatbed UV printers in the past one year, and boasts of a market size of about more than 200 industrial printers. Bansal says that out of company's total sales, approximately 10% & 22% volume- and value-wise sales respectively can be attributed to UV printers. He hints that inline coating would be the next big thing in UV printing as it increases the speed of printing process, and hence, it is more suitable for industrial applications.
Arrow Digital Pvt. Ltd. is one of the leading names when it comes to supplying high-quality wide format printing equipment in the country's UV printer industry. The company that distributes a range of materials and equipment for digital printing and cutting markets has pioneered many ground breaking technologies serving the industry since decades. It is making dedicated efforts to take digital printing to great heights in various applications and industries. Arrow Digital is exclusive distributor for EFI VUTEk printers along with other digital printers in India and caters to the country's printing industry with a wide array of application areas.
EFI VUTEk UV Digital platform enables users to print on any rigid substrate such as ACP, foamboard, kapa, PVC, acrylic, cardboard, glass, wood, etc. According to the company, it can print on a substrate with a width of up to 2inches (5.08cm). Patel says, "Printing on a rigid substrate on our platform reduces costs of labour, material and production, as it eliminates the need for printing on vinyl, and then pasting it on a rigid substrate. With a rich collection of value-added options, EFI VUTEk Roll-To-Roll printer can also be converted to all-in-one multi-purpose printer. There is a demand of sustainable products in the market, and with superfast speed, white and jet black colours, resolution of up to 1200 dpi, EFI VUTEk has been able to meet the expectations of consumers. It is evident in the fact that we have achieved good amount of sales in the past one year."
"Our printers have the highest speed of up to 5,000 sqft/hr, with dense white and jet black colours, uncompromised quality with best colour gamut in the industry, auto back-to-back printing, powerful LED technology for curing, nine-layer printing in single pass for day-night balance, visual and tactile effects. Apart from state-of-the-art technology, we stand out with our after-sales service assistance, which is unmatched by any other in the industry. We have highly skilled team of engineers to provide assistance from installation to profiling. We provide 24/7 technical support," he adds.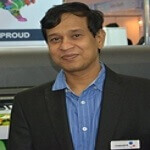 Another important name in the league is Pune-based wide-format print equipment manufacturer, Macart Equipment Pvt. Ltd. The company's has indigenously developed its UVision flatbed UV inkjet printer. Atul C. Gandhi, Managing Director of the firm, says, "We noted a huge potential in the UV printing applications in India, but the machinery had to be imported and it proved to be expensive. Thus, we decided to manufacture these printers in India, and currently, we make everything locally including the electronics, software, UV LED and all the mechanical assembly. This makes it more reliable, easy to maintain and cost effective."
"Our UVision printers can print on almost all rigid substrates like wood, glass, acrylic, PVC, ACP, sheet metals, plastic, stones etc. We started the production of this printer in early 2018, and till now, have sold 11 nos., out of which one is of 10 X 6.5 ft and others are 8 X 4 ft. We are offering our printers with a more robust industrial print head from Konica Minolta with 6pl drop size, giving good speed and quality. The machine can be customised for various applications like the interior, ceramics, textile, boards, etc., and is capable of printing on substrates with thickness of up to 50mm at a maximum speed of 400sqmt/hr," Gandhi informs.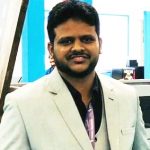 Chennai-based Unique Sign Innovations is a leading distributor for Inkjet Digital Printing Machines, UV Printers, Solvent & Eco Solvent, Sublimation Printers, Hot & Cold Laminator, Laser & CNC Router, Solvent & Eco Solvent Inks, UV Inks and High Quality Spares. It deals with renowned brands like Yaselan, Xuli, Unilami and Unique Inks. Mohammed Ali, Managing Director of the company, states that they started working on UV printers after the Media Expo in September 2018, and in such a short period, they have been able to do business worth Rs 1 crore.
Ali says, "We have finalised a deal for four UV machines, of which one each is from Xuli and Xenon, and two are from Yaselan. There is a great demand for these printers in the signage industry, and they want a machine that can be used for all kinds of applications. That is one reason why we brought hybrid. For this, we recently started working with Xenon and we have tied up with them for supplying hybrid UV printers in South India. Yesalan is focused on flatbed printers and it is selling mainly to furniture companies for architectural and interior designing purposes."
Cleaner, Brighter, Quicker & Sustainable!
Prior to the advent of UV printers, the solvent-based inks used in the printing process had to be dried by evaporation but special UV inks get dried within the printing process when they are exposed to ultraviolet light. It gives a much better and cleaner finish to the print, and saves a lot of time as the process of drying is quicker and less cumbersome. There is also no risk of air pollution affecting the print quality when it is out for drying. Apart from this benefit, UV printing is extremely cost-effective as first of all it saves time, hence more output can be produced in less time. Secondly, it does not require pre- and post-coat on the printing medium as UV drying ensures there is no smearing of ink even without these coats. Thus, the process makes sure that the print provider does not need to purchase additional raw materials for printing.
The final product comes out with vibrant colours and better shine as compared to the ones with solvent-based inks. There is no risk of chipping or fading, and the result is exceptionally good quality print. The curing process of inks through UV makes sure that the liquid ink drops are dried before they are able to penetrate the substrate, thus, giving the print a finer look. It eliminates the process of pasting the printed material onto the medium as the printing is done directly on the substrate. This removes the risk of getting creases, bubbles or improper pasting that often accompanied the process.
UV printing has yet another great advantage over solvent and eco-solvent-based technologies which is environment-friendliness, because it releases zero volatile organic compounds (VOCs) and negligible smell that comes with it. According to Patel, "UV digital printing market grows and evolves at the speed of light. This is due to advancement in software, hardware, technology, inks, as well as its ability to print on a wide variety of substrates. Unlike other printing practices, this system does not produce VOCs, requires no ventilation and needs less energy. UV technology offers sharper images, greater details, wider colour gamut, and faster & safer printing."
Chowdhary goes on adding further, "UV printing is a green process of printing as it doesn't release any VOCs because all inks used are solvent-free." He informs that Fujifilm has obtained certain important international accreditations for its inks. "Fujifilm inks have been certified by US-based certification agency called GreenGuard. All our inks are tested rigorously to obtain this top level certification. Meanwhile, AgBB – the German organisation has also certified that our inks release minimal amount of VOCs as they contain no solvent. Apart from these two, we also have the certificate that allows us to sell our printers in Scandinavian countries as they are very strict about their environmental regulations. Thus, we are one of the few printer and ink manufacturers who can claim to be so environmentally-conscious."
Adding further to the list of benefits that are attached to UV printers, Gandhi says, "As the labour is getting more expensive, many print suppliers now prefer printing directly on the substrate. Furthermore, the UV ink is print head-friendly and needs fewer print head replacements, thus making it the best choice of print service providers across the printing industry."
More Options for Signage Industry
Apart from the efficiency, inks cured by UV are less prone to changes brought about by weather. This makes it more important for the signage industry as the hoardings and billboards are installed in the open for days at length. Sometimes liquid laminates are used to elongate the life of the product. UV printing has evolved over the years, and today, it has become a necessary part of the signage industry as it offers various prospects in designing of advertisements. Several new companies have entered into this industry as there are opportunities galore, and a lot of innovations can be done in applications. Companies have been employing these machines to print on billboards, point of purchase (P.O.P), indoor & outdoor signs, wraps, bubble wrappings, etc. Most flatbed UV printers can print on up to 2-inch thick materials and this gives companies the flexibility to print on a wide variety of surfaces and experiment with various visual effects.
Speaking on the plus points of using UV printers in the signage industry, Chowdhary says, "In India, due to the retail boom, companies and their brand managers look for new ideas in decorating and designing their showrooms as they want to garner maximum attention of their customers. They want quality and creativity in their signage in line with their company's advertisement policy. Therefore, UV printers have given them the scope to explore various avenues in signage. They can try various permutations and combinations with all kinds of materials."
"UV printers enhance the quality of signage and meets expectations of the advertisers. Today, the windows of retail stores in malls are very different from what they were five years back. Rigid printers allow the companies to go beyond regular signage. For example, nowadays, acrylic is being used on sliding doors in shops as there is an option of printing directly on that material. Earlier, there were a lot of steps in the process of rigid substrate printing. It depended on the quality of vinyl, and if it is not good, proper pasting was difficult. Moreover, lamination had to be done to make sure that colours on vinyl did not fade easily. With UV printing directly on rigid substrate, printers have been able to save time, money and labour cost," he adds.
According to Patel, "Solvent, Eco-solvent and other printing methods have a deeper root in India and our biggest challenge here is to educate the end-users, such as corporate brands. We have to make them aware of the advancement in technology and show them the differentiation.  We have used both 'Push' and 'Pull' methodology of marketing to create awareness of our products, in turn creating more demand. More and more corporates are revamping traditional printing advertising practices to environment-friendly products and technologies, and this has paved a path for UV technology in India."
Chowdhary says that nowadays, companies prefer finished signage products to semi-finished ones so that they can install directly at their stores. Thus, there is a huge scope for UV flatbed printers that can print on any type of rigid media. "We have two demo-cum-experience centres at Mumbai and Gurugram, facilitating a unique interaction with each of our customers who then share their feedback about what actually they want. In fact, customers have their own set of applications getting scrambled in their mind, and want to check if a printer can deliver those specific usages and help them grow their business prospects. Thus, every customer is a success story in the making. They come with ideas and materials, and test if our machine is suitable for them or not. Most of these customers are not new to digital printing; they have a lot of experiences including solvent and eco-solvent, and now wish to upgrade their printing capabilities. We take feedback from all of them, and therefore, our understanding about their needs has improved."
What Future Holds?
UV flatbed printing has seen some major improvements in technology with intensive R&D undertaken by leading manufacturers. Today, there are opportunities galore in this industry, and PSPs are taking full advantage of this technology to increase their respective market shares. There are some reasons why this technology is getting an edge over others in the printing industry. They have given myriad of options for furniture companies, consumer brands, industrial equipment manufacturers, signage companies, etc. These printers make it possible to bring in personalisation in every object, whether flexible or rigid, to meet the needs of designers and their clients. The final print is always precise, clear, highly artistic, with bright colours and rich shine. The advanced technology allows accurate printing, prevents wastage of material, and saves manpower and costs.
Ali is of the opinion that the future of printing market is UV. He says, "The market is really good right now as there is a lot of scope. The scope for UV technology knows no limit as it allows companies to explore not only flexible but a lot of other types of substrates for their signage and many other applications. Though UV flatbed printers are a little expensive for now, but with increase in their sales, the prices will automatically go down. It is in all likelihood that this change will come very soon."
According to Chowdhary, there are some challenges or rather the roadblocks that need to be worked upon by the industry as a whole: Firstly, only about 5% of total printers sold in India belong to Rs 25 lakh+ category. "It is a huge decision for print service providers to buy an expensive printer and it holds them back from investing in high capital equipment. A lot of analysis comes into play such as RoI calculations, production possibilities, job possibilities, etc. Thus, the mindset required for such investment is not present. They have to understand that with UV printers, returns and possibilities are high, and it also saves them a lot of time as several processes get eliminated. Until the state of mind is changed, the industry will find it difficult to grow beyond a certain point."
Secondly, the lack of awareness especially on the kinds of applications, possible with UV technology is a very big issue. "Earlier, there were only a couple of applications with solvent and eco-solvent technologies. But the advent of UV technology has extended the scope of applications that has increased manifold, and variety of printable media has become wider. Thus, there is a need to develop an understanding on this aspect. For example, corrugated board is being used extensively across the world for P.O.P. and signage. However, in India, its usage is limited and the industry is still at a nascent stage. It is important that Indian PSPs understand corrugation engineering, and how they can maximise profits by using this medium. Similarly, they can gain a lot of revenue by exploring different kinds of substrates."
Gandhi gives his views on the high-cost of UV printers, and says, "These printers are more expensive than the solvent or eco-solvent printers as the print heads are different, they need expensive UV curing system, ink heating system, negative pressure system and expensive UV inks. However, when the numbers will grow up, the prices of most of these components will go down. We, at Macart, have already started working on reducing these costs by designing and manufacturing them in India." He concludes by saying, "I think in the future printers will require much lower power for curing and they will be faster and smaller."
Conclusion
Therefore, to sum up the prospects of this industry, it can be said that UV technology – be it role-to-role, flatbed or hybrid – have the proficiency to take over the conventional printing methods and replace the traditional equipment. It can transform not only the process of printing but also the scope, especially in the advertising industry, where it will continue to hold a dominant position.