True Colors Solutions & Technologies Pvt. Ltd. was established with the aim of providing innovative, practical, adaptable, applied, service-oriented and technically advanced solutions in the printing industry. The attributes of dynamism, courage, reliability efforts and 20 years of rich market experience of founding members helped the company to touch new horizons.
With strong belief in 'never compromise on product, quality and service', the company has grown multi-fold in terms of product portfolio, breakthrough technologies, geographical coverage and skilled manpower. True Colors boasts of its wide network of clientele spread across the country which is fully convinced and satisfied with its products & services.
We at Sign & POP World recently interacted with Saurabh Sehdev, the company's co-founder and sales & marketing head. With over two decades of experience, Sehdev truly understands the market dynamics and helps clients keep pace with the ever-changing industry trends & demands. While speaking to us, he divulged over quite a few areas including brand positioning, placement & pricing. The excerpts of our conversation are here as under:
How have you seen the wide format printers market?
We entered into the industry more than a decade back. The market was seemingly bifurcated with a clear gap between good quality and bad quality printers. There was almost none in the middle with quality printers at reasonable price. The printer suppliers were making hefty profits using substandard components in their machines. All was happening in order to meet the basic requirements of only few customers at the bottom of the pyramid. To make the printers available at low price, the manufacturers/suppliers bring down the manufacturing cost by compromising on the overall quality.
What made you stand out in such a market?
We decided not to go with the wave. We upgraded ourselves and decided to fill the gap by offering quality printers. In fact, we opted to increase the cost, but for improved quality of printers. Accordingly, our target from day one has been quality-conscious customers. They neither look for cheaper machines nor do they compromise on quality, just for the sake of pricing. And we are actually happy that there exist many takers of our printers. However, the industry has matured now. Twenty years back, there were only few players in the wide format industry in 2000. Today, the strength of the industry has grown multi-fold especially in terms of number of players. But we never deteriorate from our path and have continued supplying the quality printers.
Where does the potential for True Colors come from?
Till now, we have been focusing on quality-conscious clients. We don't want to play at lower price brackets by degrading quality of our printers just for the sake of gaining expanded bottom-line. We do not go for quantity. We are only looking for focused clients, who are into serious business and from where we can get repeat orders. There are many such clients who have installed more than 10 of our machines. We believe in bringing or offering satisfaction to our valued clients. If we have satisfied clients, it will automatically boost our sales through word-of-mouth.
Are you also into manufacturing of printers?
We are not manufacturing but OEM partners, and are getting these machines assembled in China. But the highpoint is that we take care of the technical glitches that our customers come across. We have our team in China as well. Our warehouse is in Delhi. We are capable of supplying to any part of the country, be it Srinagar, Assam, Kerala, Gujarat or MP. The sales figure, however, is not constant and keeps changing drastically with time. This is because it depends on how we approach our customers, and how eager are we to penetrate and enhance our reach amongst the potential customers in different parts of the country.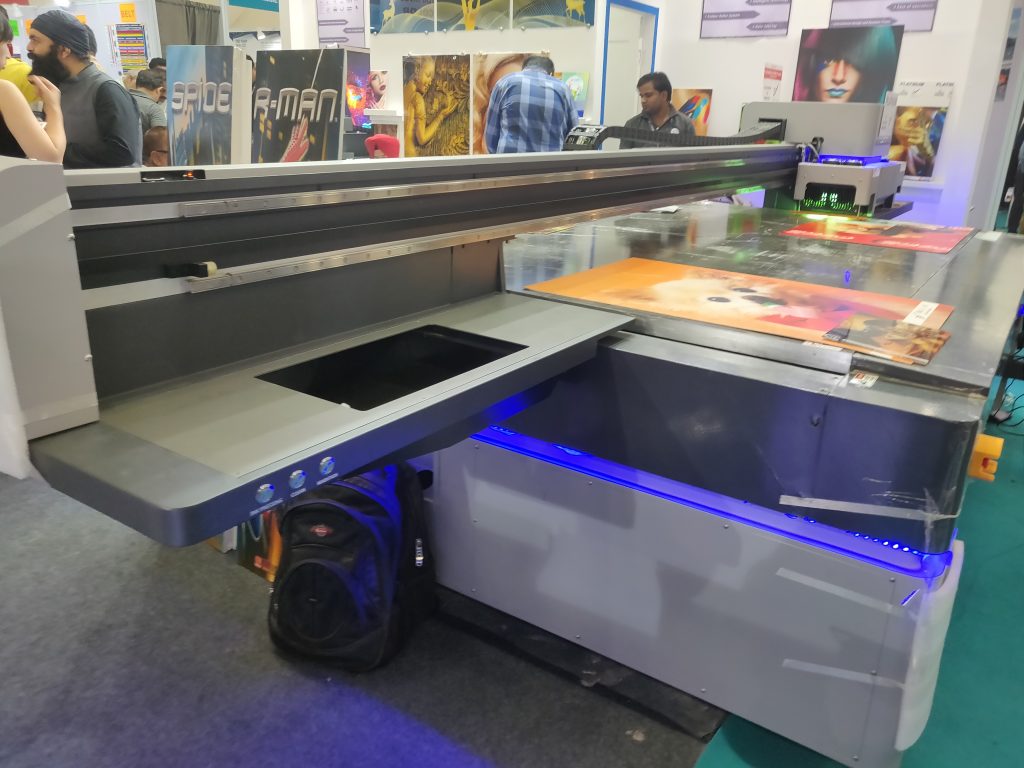 What is the USP at True Colors?
The basic USP of the company are 4Ps. 'People' with thorough technical and product knowledge with years of experience help clients in meeting their demand of printing with profitable solutions. Our manpower is trained with basic principles of building good rapport with the clients and providing them timely solutions. The 'Product Portfolio' we offer is the need of the hour and is ready to meet the current market demand. We invest in high quality products of international standards to add value in our clients' current and future businesses. 'Profitability' is the core ability at True Colors by enabling our clients in generating financial gains with the belief that we can grow only if our clients grow. The last is 'Penetration' as we have expanded our footprint with presence in almost every state covering more than 120 districts. We are not limited to geographies, but have worked harder on industry-wise penetration also.
How has been the concern for environment at True Colors?
Generally, average life of the machine, especially those available at considerably low rates is a little more than two years. This is because the components used therein are not genuine and can't withstand wear & tear for long. Hence, people use to scrap their machines after such a short span. By doing this, they constantly add to the e-waste, after every couple of years or so. This has become a kind of trend which has been prevalent in the industry. Therefore, to avoid this, we make high-quality printers for longer lifespan.
Isn't the short lifespan a result of rapidly changing technology?
It again depends on what we are offering to our customers now. How futuristic is the technology that we are asking our clients to buy? Are we letting them choose from among the options or forcing them to go for the one which may become outdated in just a couple of years from now? The technology exists even before we opt for it. Here, we will have to become selective in our approach if we want to contribute to our environment and at the same time to our business.
Which all eco-friendly solution does your company offer?
We have eco-solvent, sublimation as well as UV – all these are eco-friendly technologies. In fact, we are the largest supplier of the UV flatbed printers in India across all industries. We do offer printers with solvent technology. The basic problem of environment lies with PVC flex, which has now been banned in some states, while rest are planning to follow the suit. The alternatives have started creeping in and fabric as soft media has already entered the fray, over which all our printers are capable of printing. Let me tell you that in solvent printers, we only need to change the ink and it becomes compatible for printing over fabric. For this, we have already given the software to our clients with proposition of coping up with the change so that we can be able to avoid adding to e-waste as much as we can.
Please tell us about your distribution network.
We have few distributors as of now who are taking care of a few states. Rest, we are doing ourselves. We have our own team of sales guys who are supported by our engineers to take care of technical issues.
How do you see the prospects of signage industry?
We have to work harder as we do not have any other option. There is slowdown in the market, which is a part and parcel of any economy. We can't just avoid the reality, rather we have to look for ways in which we can enhance the activities with a very positive frame of mind. We are optimistic and always look for brighter side of the business.