Massivit 3D Printing Technologies, the large format 3D printing solution provider for visual communication applications, has finally brought its Massivit 1500 printing solution to India market. It was in 'drupa 2016' that the Israel-based technology giant unveiled its first ever large format 3D printer, Massivit 1800. Engineered for large format signs & displays, Massivit 1800 empowers its customers to produce attention-grabbing effigies and help them enhance their competitive edge surpassing all expectations, which were neither possible nor even imaginable using traditional methods.
This technology was to be introduced to the Indian signage industry in the very next year i.e. 2017. Arrow Digital Pvt. Ltd. took the onus of bringing the same to India. After an elongated lag of around three years, Indians could finally see, touch and feel the giant printer during its live demonstration at the recently concluded New Delhi edition of Media Expo 2019. It remained operational for all three days of the event. On the sidelines of the expo, the editorial team of Sign & POP World conversed with Nir Dvir, Sales Director, DACH Region for Massivit 3D to know the plans and provisions for potential customers in India. Edited excerpts of the conversation are as follows:
Which model has been introduced by Massivit in India?
We have come up with Massivit 1500 Exploration 3D Printer, which took centerstage at Media Expo 2019 and proved to be enormously popular with visitors. No doubt it's the first ever live demonstration of this solution in India, which in turn generated excitement among the PSPs visiting the booth. This model is designed specifically for print shops of all sizes. We showed our potential clients visiting our booth as how Massivit 1500 actually expands their prospects simply by enhancing the accessibility of 3D printing technology to a wider market. They were keen to understand how this printer ensures that small-to-large businesses can benefit from the limitless creativity and new business opportunities enabled by our technology.
Which all specific features does Massivit 1500 3D printer come equipped with?
Massivit 1500 Exploration 3D printer provides the first step into large format 3D printing for visual communication and concept prototyping at an affordable price. It is designed to cater to print production spaces with limited height. Featuring only one printhead, it presents unprecedented linear printing speed at 300mm/sec. It offers 35cm/13.7" on Z axis per hour i.e. printing speed for 1 meter diameter cylinder. There are three modes – normal (1.3mm), quality (1mm) and high resolution (0.8mm). Equipped with integrated software (Massivit SMART Slicer), Massivit 1500 uses Proprietary Dimengel 100 as printing material. The maximum printing volume that the machine can produce is 147cm x 116cm x 137cm or 58" x 45" x 54".
How do you plan to explore opportunities in a new market like India?
India is a new market for us and when we enter into a new market, we go to our existing customers. Here, our customer is Arrow Digital. Massivit 3D printer is not new anymore and has been in existence from last three years. Till date, more than 100 units have already been sold worldwide. This shows that the market has started acknowledging the machine, and is understanding its applications and importance in times to come. People take some time to decide as they explore its usability/applications and corresponding opportunities in the market and how it is going to boost their business. They all know that the machine has a very bright future in the graphic art industry, but they only need determination and belief in Massivit 1500, a relatively new graphic art technology in this part of the world.
For which all applications is the machine useful?
It can be useful for more than 100 applications such as giant 3D displays & selfie points, innovative window displays, combined 2D/3D billboards, models for thermoforming in just a few hours, channel letters & 3D logos with total design freedom, customised SEG frames/soft signage, personalised pop-up stores, entertainment props and scenic sets, etc. For all this, Massivit 3D's patented Gel Dispensing Printing (GDP) technology facilitates rapid production of lightweight, large hollow models and displays without geometric constraints. It does away the need for any complex support structures. Together it leads to reduced time, cost and wastage. Adding more to it, is its flexible level of transparency that allows for illumination, backlighting, a range of finishes, and projection mapping.
What is your assessment about its acceptance?
I believe that the time lag will not be more than two years, as by then, the brands will start asking for something new which is remarkable and has the ability to set them apart in the crowd. Things are actually moving very fast. This makes me confident that in just two years' time, everyone will have to do something with 3D printers. 3D technology is not confined to printing, but opens up the doors of opportunities for graphic art industry stakeholders. Massivit is offering the right tool at the right time in the right place. There are quite a few 3D printers in the market but this one has an edge over all others because of its time factor i.e. its printing speed. When the solution is needed in no time, we believe that there is no other way out but Massivit.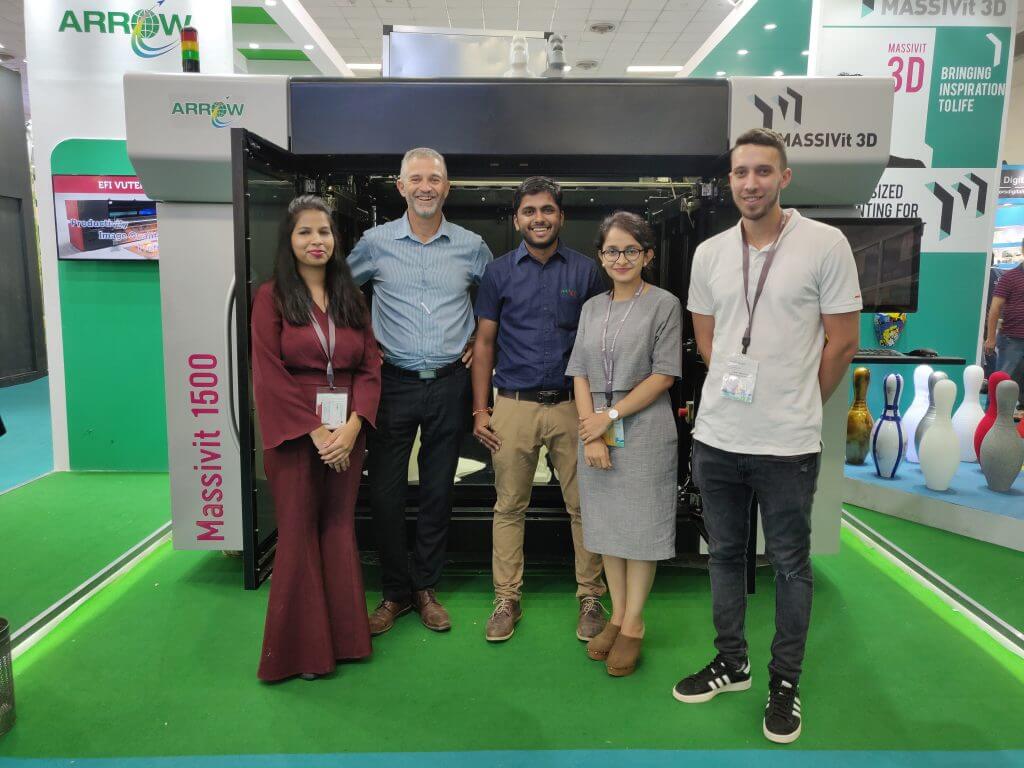 What is its compatibility quotient when it comes to outdoors?
Like many other branding tools, Massivit 3D-printed object is meant more for indoor applications. The same can be equally compatible for outdoors, provided it is made with required extra cover and protection layer to withstand the external factors. One important thing is the environment in India. The geographic area always plays vital role in deciding about the outdoor applications. It depends upon many factors like the sun, wind direction, weather, etc. Our material is green as it is reusable like tyres. We are not using the materials like other 3D printers are using. Ours is unique and aimed at generating something new. We have an exclusive proprietary gel for our 3D printing technology, which makes it different from all other 3D printers that are available in the market.
What is so unique about Massivit?
You may have heard about ball in a ball. The unique point of Massivit 3D printing technology is that it can literally print a 'ball in a ball' without any sealing on the outer layer of the ball. We want today's graphic art stakeholders to accept it. Massivit 3D printer is not here to replace the existing graphic art market, but to add more value to same.
How do you see the reception of Massivit 3D in India?
I won't call myself an expert in reading through the Indian mentality. But I can say that what is fit for Bengaluru may not be perfect for Delhi. India is a big country and that is the reason behind this versatility. In this show, we can see quite a few small 3D printers. All these don't have the same attributes as Massivit 3D printer. What we are offering for graphic art market today is the solution for tomorrow. We understand that there are a few 3D printers in India, but the speed of those printers is not the same as of Massivit. And therefore, it can't be placed in the same league. We are not doing any revolution in 3D, but bringing evolution to the exiting 2D graphics.
What made Massivit select Arrow Digital as its distributor in India?
We are working with many distributors around the world. The selection of Arrow means we have gone with the best in India. However, it doesn't mean others are not good. Arrow is a pioneer and a market leader in providing the high-technology machines to its Indian clients since the very beginning. For instance, the company is said to be the only point of contact in India for EFI, which is usually highly-priced and is equipped with highly advance technology. And I am sure we will get the success.
How important is India for Massivit and how is Arrow going to support?
I think all markets are important and India falls in the same league. Every customer is important for us. During my stay here in India, I met a lot of interesting people. They understand the point of bringing additional value to their branding activities. India is a huge country and that constitutes a big market, which appreciates Massivit. Every customer here is highly valuable for us. But we will not be able to give them the services they would need. For that, we require a strong support from someone in India who has the understanding not only of the market but also of people, and here, Arrow is the answer for us.
____________________________________________
The Sign & POP World's editorial team also got hold of Ambika Yadav and Ujjwala Upadhyay, the two brand managers with Arrow Digital Pvt. Ltd. The duo spoke to us about Massivit's launch in India, its importance and the benefits for the Indian graphic art industry. Edited excerpts are as under: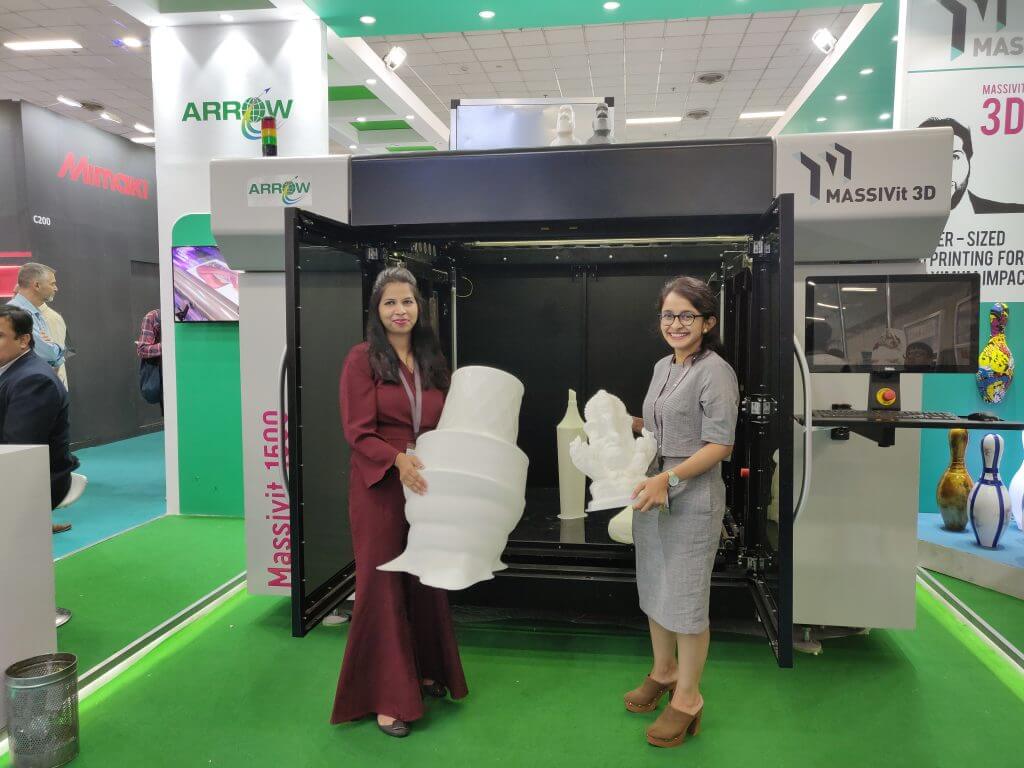 What made you bring Massivit 1500 to India?
We brought Massivit to India because we want to be ahead of time. Speed of the printer is the major highlight. Massivit opens up a new market for the world of advertising by offering out-of-the-box applications that brands would love to go for. The company has just introduced proprietary dimengel 90, which is cost effective when compared with the existing dimengel 100. Dimengel 90 doesn't only enhance the speed, but also caps the operational cost.
What's different in Massivit 3D printer?
We know that 3D printing technology is already there in the industry. But those 3D printers are not capable of producing large-sized model in one go, but in pieces. Besides, the average time is more than 24 hours. So, if someone needs to create a 5-feet high model/effigy, he would require 5-6 printers to remain operational simultaneously. While, if he installs a Massivit 3D printer, he would be able to complete the same job in just 5 hours. And since it comes along with a handy scanner, there is no need to install a separate scanner. Further, in case it is a small object, it can be enlarged up to 5 feet after the scanning is done.
What prospects do you offer to PSPs here with Massivit 1500?
With Massivit 1500 Exploration 3D printer, we are here to empower PSPs to propel their business with cutting edge, large format 3D printing. Through this unique 3D printing machine, we want to offer PSPs the opportunity to expand their business by embracing more than 100 applications that the Massivit 1500 is capable of, and serve multiple sectors. It can help them out-speed their competitors with super fast, patented technology. This machine can create giant, jaw-dropping displays and props.
How are you promoting the concept in India?
We are doing hit and trial for now by offering sampling to various brands that they can use for their marketing & branding purposes. We are very happy with the response that we are receiving here for our Massivit. People are actually going mad about it. The footfall is just amazing. The industry that we are targeting with Massivit is advertising, architecture, interior designing, mould making, signages, and last but not the least, film industry.
What are its other benefits?
The other main advantage with Massivit 3D printer is that any object that is 3D printed can be illuminated, which is not possible with any other 3D printers currently available in the market or 3D object created by any other traditional method using POP, MDF, aluminium, etc. The Massivit 3D-printed objects, therefore, become very attractive because of the illumination factor. Moreover, for mould making, especially for thermoforming industry, people generally use metal or wood and create the same through conventional method, which take months, while Massivit can do the same job in a couple of hours.
How will Massivit 1500 help PSPs in India to grow?
It increases the accessibility into growing large format 3D printing market. Massivit 1500 facilitates an affordable, print show friendly solution for the large format 3D printing. By integrating 3D printed models/enhancements to existing 2D applications, printer providers can increase their product portfolio to offer innovative and ground-breaking applications. These include engaging POP/POS displays, illuminated signage and props as well as high endurance moulds for cost-effective thermoforming for the advertising, retail, entertainment, events and interior design markets.