The Japanese Technology Giant, Mimaki has finally launched its 3DGD-1800 3D printer as a solution for sign and display applications across a number of diverse sectors.
Introduction
Mimaki Europe, a manufacturer of wide-format inkjet printers and cutters, has launched the Mimaki 3DGD-1800 3D printer, a new large scale system that uses Gel Dispensing Printing technology. After objects are 3D printed, the company's inkjet printers can be used to add further design choices in the form of colour and decorations. Commercially available from April 1 2020, the system has also been built with a focus on size and speed, reportedly capable of producing objects up to 1.8 metres tall in just seven hours.
According to Bert Benckhuysen, Senior Product Manager at Mimaki Europe, the approach is unique here at Mimaki when it comes to being a total solutions provider. "We have ensured that even beyond the 3D printing stage, our Mimaki inkjet printers can then be utilised to add colour and décor, making created objects even more impressive and immensely versatile," he has been quoted as saying.
The Attributes
As far as attributes of the Mimaki's new 3DGD-1800 3D printer are concerned, it comes equipped with a number of unique features aimed at saving on costs and time. While its dual-head configuration allows for the simultaneous printing of two structures, it also facilitates the production of support-free hollowed structures. This helps to streamline production while also enabling the addition of interior illuminations, increasing the system's application possibilities across signs and displays, events, creative arts and interior design.
Following its unique vision coupled with wealth of experience from across the print industry and unwavering commitment to the innovation, the technology leader has strong intentions to lead the signage and graphics industry in both two- and three-dimensional signages – and the introduction of the new Mimaki 3DGD-1800 will prove to be a step forward in achieving its set goal.
According to the company, this new 3D printer uses Gel Dispensing Printing (GDP) technology that extrudes a gel-type UV curable resin, which is cured instantly using a LED UV light thereby enabling lamination speeds of up to 350mm in height per hour.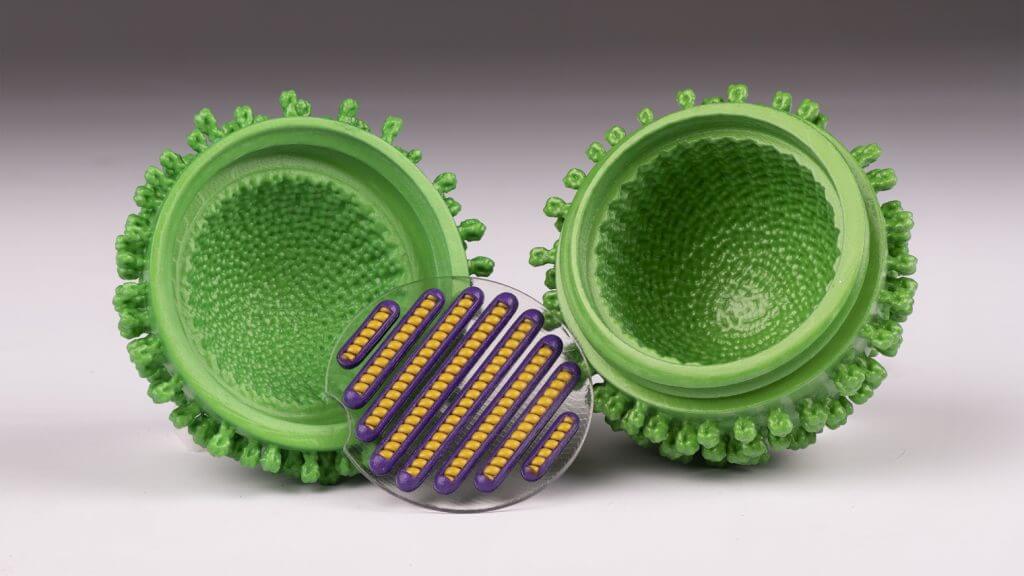 Mimaki expects the 3DGD-1800 3D printer to provide a number of opportunities to sign makers in a range of industries. For example it potentially allows users to create detailed life-sized displays, event decorations, movie props, large product mock-ups and more. At the other end of the scale, it can also be used to manufacture production parts such as moulds for vacuum forming.
Benckhuysen added that with unprecedented modelling speeds and the possibility to create enormous objects even beyond the sizeable formation area, the 3DGD-1800 represents a real transformation in large-sized production. "Combined with the superior quality that we have become known for here at Mimaki, the potential impact of this new 3D printer is tremendous – particularly for the sign and display market but also far beyond that. We are very excited to be able to bring such a transformative product to market. The opportunities are boundless."
Mimaki's Journey of 3D Printers  
Mimaki's efforts of bringing 3D printers to the market started five years back when in 2015, the company announced its first full-colour 3D printer after the launch of its UJF-7151 plus model, which is capable of directly printing onto materials such as plastics, metal, wood, leather, and glass. As such, the UJF-7151's UV cure/inkjet printing technology has been leveraged by the company as a base for 3D material jetting.
Then in 2018, Japanese technology giant launched its 3DUJ-553 3D printer, which utilizes a proprietary 3D printing method combining a traditional inkjet print head with an economical UV-LED light source. This involves successively ink-jetted and cured layers stacking to form a full-colour 3D object. The max build volume in the 3DUJ-553 is 500 x 500 x 300 mm.
The full colour capabilities of Mimaki's 3DUJ-553 3D printer has been used in a number of creative applications. For example, 3D body scanning technology company Twindom used the system to create a scale miniature community with models 1 to 2 inches tall. The 3DUJ-553 system has also been used to 3D print a detailed model of a sustainable town built in Minecraft as part of a nationwide competition in France.
About Mimaki Engineering
Founded in Japan in 1975, Mimaki Engineering develops, manufactures and distributes wide-format inkjet printers, cutting plotters and software. The company operates large manufacturing bases in Asia and the Pacific, the United States and Europe. Mimaki Europe was established in 2004 as the company's gateway to EMEA regions. The subsidiary is responsible for sales, marketing, logistics, administration, a large force of service technicians and a distributor and reseller network.