Countries around the world are grappling with Coronavirus menace, and are in dire need of protective equipment to safeguard their health workers. At this crucial time, 3D printers have emerged as a savior by providing the quickest and most cost-effective solutions.
The ongoing Covid-19 pandemic has put governments, organisations and individuals across the world into a state of panic. What seems like the biggest threat to humanity till date, this fast-spreading disease has sent economies of the affected countries into a tailspin, with thousands of people fearing job losses as several industries in secondary and tertiary sectors grounding to a halt. What is even more worrying is the fact that this pandemic is not showing any signs of slowing down in affected regions. This has led to compounding of existing problems, especially in the healthcare sector, which is facing serious shortage of medical equipment, safety gear and medicines.
Doctors at the frontline are taking the risk of treating Covid-19 patients without proper safety gear such as masks, face shields, protective suits etc. This seems to be one of the biggest problems as a lot of medical professionals are being tested positive for Coronavirus. It is extremely important to save the lives of the doctors and nurses, and therefore, governments and various corporations are looking for ways to mass produce masks and safety gear in shortest possible time.
To address this problem of shortage, 3D printers have emerged as the quickest and most cost-effective solution for mass printing of masks, face shields, head covers etc. Versatility of 3D printers is well known and their use during the current crisis can be called as one the most useful applications of 3D printing for human survival. The way this medium is being used across the world for this purpose says a lot about its tremendous potential for medical and other essential services. Let us have a look at what all is currently happening around the world and within the country in this front: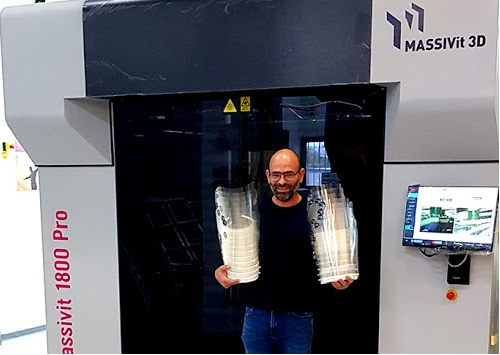 Massivit 3D Printing Technologies: This Israel-based print major has dedicated its resources to produce PPE Face Shields to address the demand by health workers taking care of Covid-19 patients. Massivit 3D's high-speed additive manufacturing technology allows for the supply of hundreds of face shields off each machine every day. The 3D print files and screen cutting file are available for download from the Massivit 3D website and can be 3D printed locally on any Massivit 3D printer anywhere in the world. Massivit 1800 3D printers can produce 200 face shields per 8-hour shift.
3DCrowd UK group: In UK, which is one of the worst hit countries, about 1,400 3D printer owners have come together to produce face shields for NHS. These 3D-printed mask shields are designed to provide durability to N95 masks. The group has adopted the method of placing the protective mask shield over the N95 masks to limit exposure and extend their lifespan beyond one-time use. They also replaced elastic strap with a plastic lock providing ease of use.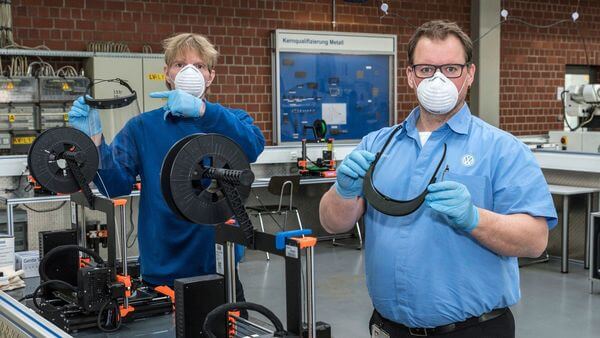 Volkswagen Group: The German car manufacturer is producing face shield holders using 3D printing as part of its joint transnational initiative with Airbus and the 3D printing network of 250 companies 'Mobility goes Additive'. This initiative is going to help Spain which is currently one of the epicenters of Coronavirus infection in Europe. The holders will be fitted with plastic foils, and these shields will cover the entire face for protection. Skoda, too, is using 3D printing process to produce reusable FFP3 respirators in collaboration with Technical University in Prague.
General Motors: The car major has partnered with Ventec Life Systems to build ventilators and is also going to produce more than 50,000 face masks per day.
NASCAR: Engineers at NASCAR too have taken steps to help address the shortage of personal protective equipment for healthcare workers. They are working aggressively with suppliers with printers running about 18 hours in a day to produce masks.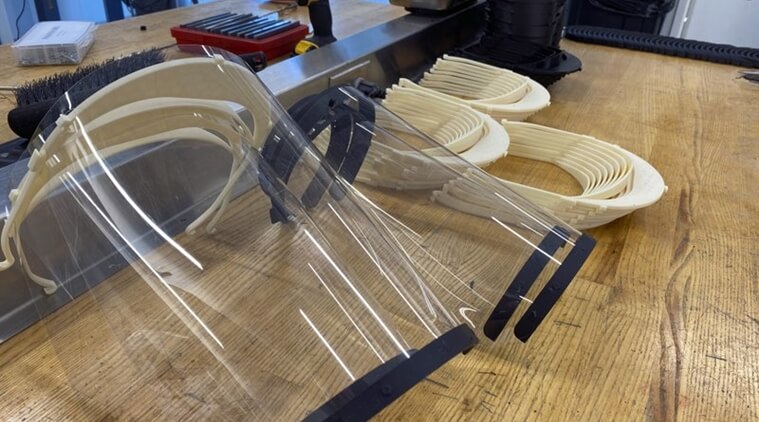 Creative Awards & Rewards Pvt. Ltd.: The 3D Printing Division of the Mumbai-based company has taken the initiative to manufacture face shields for protection against Coronavirus. The shield covers the entire face and thus provides maximum protection against virus-containing droplets. It comes with an elastic band, a head gear and a transparent sheet in the front. The company spokesperson told Sign & POP World that they are currently producing over 1000 pieces a day and they plan to ramp it up if required. The company is supplying the shields all across India.
Boson Machines: To supplement the efforts of government, Mumbai-based 3D printer manufacturer Boson Machines has taken to producing and distributing face shields to keep health workers safe. The company co-founders Arjun and Parth Panchal are using 3D printing technology to manufacture 500-800 shields per day and they have the capacity to scale it to 4,000 pieces.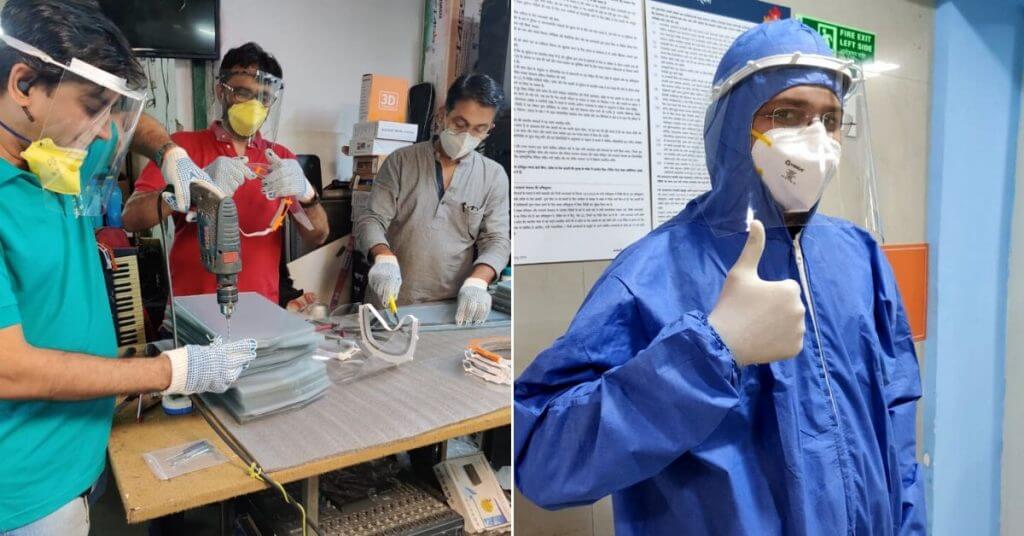 Skoda Auto Volkswagen India (SAVWIPL):  The Indian arm of Volkswagen is manufacturing reusable face shields for healthcare workers treating Covid-19 patients. It has already supplied 380 of them to a Covid-19 dedicated hospital in Pune and will now make 250 units a day, with plans to further ramp up production. SAVWIPL's face shields are designed to prevent fogging and are light weight, making it easier for health workers to use them. The shield can be sanitised after 6-8 hours and can be reused.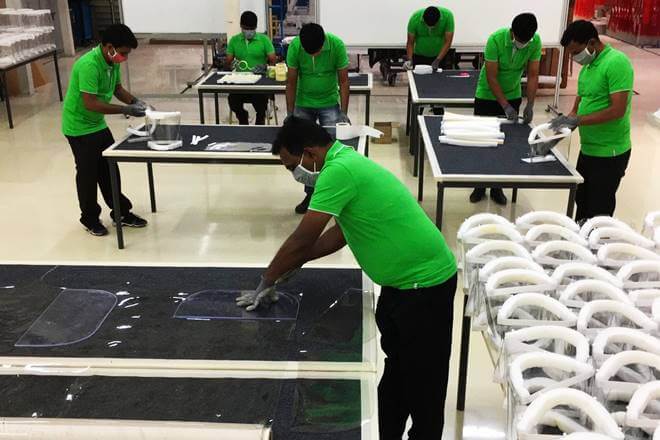 An Engineer-Trio from Coimbatore: Ebin Ephrem Elavathingal, senior manager of AIC RAISE; Hari Vigneshwaran, founder of Augment 3Di; and Vigneshwaran S, founder of Virtual Frontier Robotics came together to produce face shields using 3D printers. They produced 350 masks and donated them to sanitation workers in Coimbatore. The mask covers the entire face and can be reused after cleaning with soap. The group decided to open-source our design and now anyone can use the design free of cost to make these shields.
A Bengaluru-based company: In order to help tackle the shortage of N95 masks, a factory from Bengaluru (name unknown) is manufacturing face shields to improve the usability and durability of regular N95 masks. The shield is more effective than masks as they also cover the eyes, which too are an entry point for the virus. Moreover, the shield also reduces the number of droplets from falling on the masks, thus, increasing their life. 3D printers are being used to make the shields and the company has made about 2,000 till now.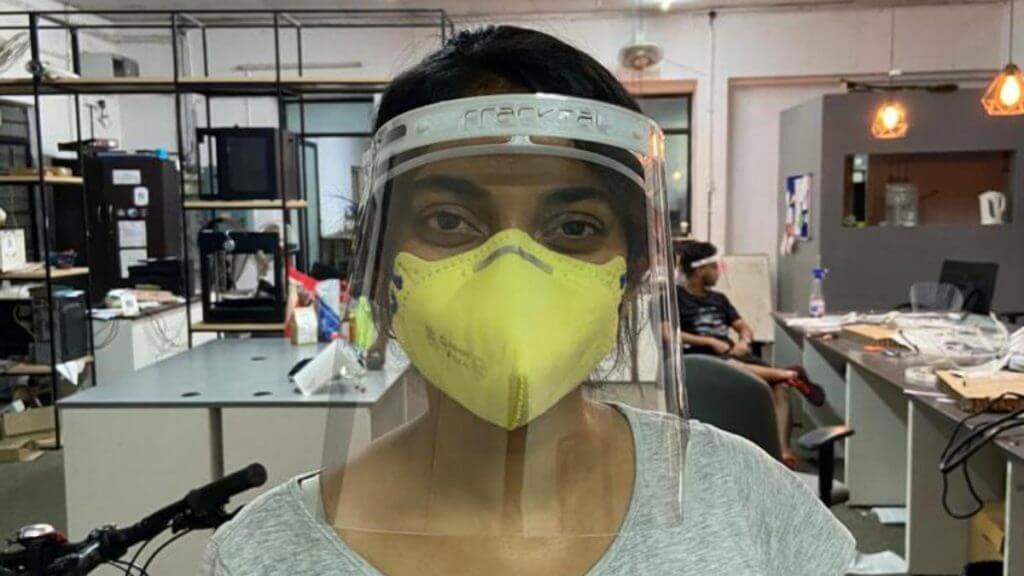 As we can see around the world, companies and individuals have come together to produce PPEs using their 3D printing capabilities. These are extraordinary times and only extraordinary steps are going to help us in combating this pandemic. With profit-making companies joining hands to help, either by giving discounts on such equipment or by completely shifting their production capabilities towards making these essential items, what we are witnessing is true humanity. As we all know that it is about our survival, the only thing to do is stand united and work together.