Massivit 3D that has reportedly secured over 30 customers from 15 countries, making its footprints visible across 5 continents, and went on to registering an unprecedented growth of 350%, would soon be reaching Indian subcontinent
It was in drupa 2016 that Israel-based Massivit 3D Technologies unveiled its pioneering large format 3D printer, Massivit 1800. Specifically engineered for large format signs and displays, Massivit 1800 – the world's only 3D printer till date, empowers its customers to produce attention-grabbing effigies and help them enhance their competitive edge surpassing all the expectations, which were neither possible nor even imaginable using traditional methods.
With research demonstrating that 3D printed campaigns have five times more stopping-power and four times more staying-power than 2D campaigns; no wonder, greater number of large format print providers and sign companies has been getting attracted towards 3D printing to transform their graphic arts projects, in turn, their businesses to whom this new technology is no less than a miracle enhancing viable application opportunities for the large format/sign sector.
For the owners of large format print and sign businesses, the Massivit 1800 3D Printer not only enabled them to extend their application areas but also made them capable to differentiate their offerings, which could potentially unlock the door to the new businesses. Its unique attribute is to add WOW factor that ultimately allows the business owners to offer attention-grabbing, added-value visual communications, which eventually better engage target audiences.
League of Giants – Marks RLWC2017
The most recent buzz was created by Gorilla Constructions from Australia, where it developed League of Giants – to flag off Rugby League World Cup 2017 in December using their wide-format 3D printer. Gorilla Constructions, a construction and design company based in Sydney, specialises in set designs, creations and using new technology to create props and products.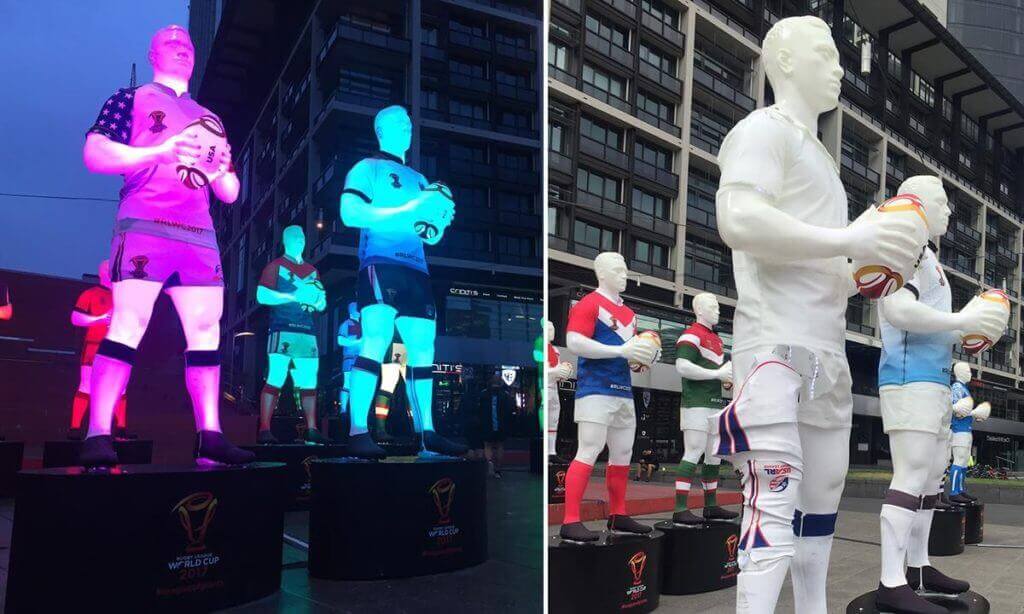 It was one of the renowned international occasions as the Rugby League World Cup 2017 (RLWC2017) was about to flag off. The world's best came to Australia for the RLWC2017 and they got some awesome new team-mates.
The League of Giants, a consortium of 14 larger-than-life rugby players, was meant to boost the RLWC2017. From Samoa to the USA, Lebanon to Wales, France to New Zealand, each of these massive units represented one of the fourteen participating nations in the tournament. Each contains LED strip lighting to glow at night.
The body was modeled after Patrice Siolo of the North Sidney Bears. Siolo had to hold still for three minutes while his body was scanned to capture the necessary details to create the file that would ultimately be printed 14 times on the giant Massivit 1800 3D printer. It's simply gorgeous work by Gorilla Constructions!
Talking HUGE, each 'player' stands three meters tall and weighs 400 kilograms, glowing with internal LED lighting – none could miss them be it bright sunny day or dark night! Throughout the tournament, the League of Giants made a huge impact on fans as they get up close and personal with these legends in Melbourne, Canberra, Sydney and Brisbane. This was a mighty celebration of the courage, honour and strength of the international rugby players.
Creating 3D Pop-Up Store
Recalling the work done by Australian design major, Omus which using Massivit 1800 has already demonstrated how the three dimensional printing technology can change the way high-level advertising, marketing and themed tasks are created. Omus, which has centred its business around producing high-end displays for the premium retail sector, exhibitions and events, evinces that how the technology can be further stretched to create bespoke retail outlets by producing the 'world's first' 3D printed pop-up store for luxury fashion brand, Louis Vuitton.
Omus – the first Australian company to have a Massivit 1800 3D printer – the design house of which has created a stunning 3D printed installation at one of its pop-up retail locations in Sydney's prestigious Westfield shopping complex. The 3D print service provider used the large-scale 3D printer to manufacture and realise the impressive silvery dome with a huge build volume of 180cm (H) x 150cm (W) x 120 cm (D) in a span as short as two weeks. Keeping in view the scale of the project, the schedule was extremely tight and Omus had to pull out all the stops to get the project finished in time. This included reaching out to Composite Images in Sydney (which also houses a Massivit 3D printer) and bringing in Massivit technicians all the way from Israel.
The prestigious project took a great deal of design and 3D printing work. In the end, the chrome-like canopy was made from 900 kilograms of Massivit Dimengel UV-curable material, and consists of 48 separate sections, which were 3D printed, assembled, and finished with an 'Avery Supreme Silver' wrapping film. Even within the strict two-week timeline window and despite some skepticism, the Omus team was able to pull together to 3D print all of the parts for the structure, got it assembled and installed at the Louis Vuitton store within three days.
At the end of the project, Robert Grosso, Omus Director has been quoted as saying that this was really a take no prisoners job! "Many fabricators had already said it could not be done within the time frame using conventional processes, but oversize 3D printing by Massivit came to the rescue." Put together, the final touches on the impressive 3D printed installation, the vinyl-cut black lettering reading 'Louis Vuitton' and the large elephant floor graphic beneath it created an eye-catching picturesque at the Westfield complex in Sydney, Australia.
Energising Vehicle Graphics
This was not it as another such sector that has reportedly been enjoying these benefits is the production of attention-grabbing vehicle wraps. This opportunity is exemplified by several of Massivit 3D's customers, in particular, E. S. Digital, which went on to apply its expertise of visual merchandising and POS branding and signage to vehicle graphics.
E. S. Digital, commissioned recently by Israeli dairy giant, Tnuva, to produce three eye-catching 3D printed bottles used as part of a three-month vehicle campaign to promote its new energy dairy drink, GO. Massivit 1800's huge build tray enabled E. S. Digital to produce the impressive, larger-than-life bottles in a matter of days. Each 3D-printed bottle was also illuminated to further maximise the visual impact during night.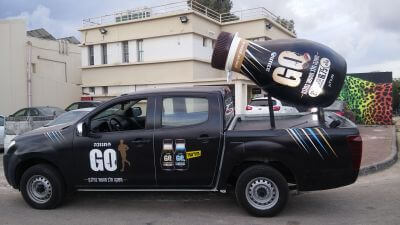 According to Eyal Shemesh, E. S. Digital's CEO, the 3D-printed bottles surpassed Tnuva's expectations in terms of attention-grabbing capability and visual appeal. As he has been quoted in a recently published report, "It goes without saying that brand and marketing managers will always be seeking to maximise their budgets with as much WOW-factor as possible and this particular exemplifies this."
The company claims that Massivit 3D printing solution can be seamlessly integrated into large format/sign businesses. With their extensive knowledge of traditional printing processes and a comprehensive customer base, large format and sign print houses can easily combine the two technologies to create stunning vehicle graphics with minimal learning and business disruption.
Such example was also set by the US vehicle wrap specialist, Carisma, which has successfully targeted its existing clients and elevated traditional 2D vehicle graphics with eye-catching 3D printed elements for its valued customers. These projects comprise a number of prominent US movies and TV series, including the recently-released final season of Black Sails, which saw Carisma tasked with creating nine double-decker bus wraps to promote the show in a country-wide campaign.
Utilising the Massivit 1800's super-fast turnaround time and robust Dimengel material, Carisma 3D printed the 8-ft high skull. This was then vacuum-formed into the nine skulls and adorned with printed self-adhesive vinyl sheets – all in just three days. This project came after a series of bus wraps complemented with 3D objects for blockbuster films including The Angry Birds Movie, Ghostbusters and Little Princess.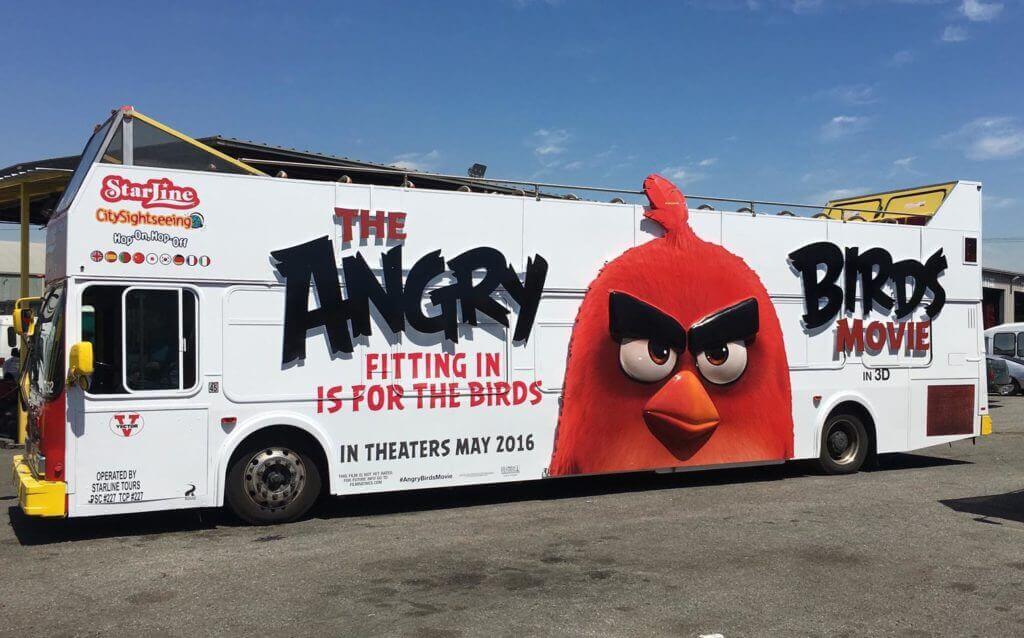 Moshe Gill, Carisma's Founder & CEO, has been noted as saying that his client was blown away by the attention that was generated by the 3D printed bus graphics. "As a business owner, the need to retain clients by securing repeat work is critical and our bus-wrap projects are a clear example of how the Massivit 1800 3D Printer enables us to do exactly that," he stated.
Needless to say that how the company could secure over 30 customers from 15 countries, making its footprints visible across five continents, and went on to registering a whopping growth of around 350% since its launch during drupa 2016. Going forward, the company has expanded its worldwide distributor network to mark 25 including one in India, to provide full customer service support and training.
The company claims that its customers are enjoying a multitude of benefits, including the ability to 'futureproof' their business, simply because they chose to step out of their comfort zone and explore the capabilities of 3D printing. "As we are already seeing, more of our customers are pushing creative boundaries, which will see 3D printing become increasingly integral to the creation of stunning, next generation vehicle graphics."
Creating Larger Than Life Effigies
Vehicle wrap is an all new application that has been included in the Massivit 1800's unparallel attributes. Based on the company's proprietary Gel Dispensing Printing (GDP) technology, the printer offers unrivalled print speeds and dual printing capabilities to quickly produce premium models up to 1.8m/6ft high, allowing customers to generate engaging advertisements, unique displays and much more. No doubt, it has rapidly been transforming the way graphic arts projects are created.
There are other commendable feedbacks that Massivit 3D has received from its elite customers who are enjoying those benefits. One such customer is SuperSize, a dedicated 3D printing subsidiary of Israel's largest retail specialist, Heidia Group. The PetachTikva-based company had purchased the Massivit 1800 to expand its business encompassing retail, advertising and exhibition sectors.
Heidia Group, with the industry experience of around three decades, has built a reputation as expert craftsman when it comes to iconic retail displays for many international brands. "Maintaining this ability to offer our clients the innovative displays is at the forefront of our business model and is the reason we continue to invest in pioneering technologies," Ofer Gal, Founder & Chairman, Heidia Group has been quoted as saying. "Capable of quickly combining the luxury with head-turning appeal, Massivit 1800 does not only add a new dimension to our portfolio but has eventually become our solution of choice for statement pieces."
Adding further testament, Gal said, "In fact, we recently produced a 5.9ft tall flamingo for a luxury private event. Utilising the Massivit 1800's dual print heads, we 3D printed the flamingo in just one day. Painted in the famous salmon pink, the model is now housed in the event organiser's home. It not only continues to captivate the attention of visitors to the organiser's home, but has also contributed to increased business."
Opening New Doors of Opportunities
Sismaprint, a leading Italian digital print house, has met its objective of entering in to new markets once it got its Massivit 1800 installed. "As the first Italian adopters of the technology, we are differentiating our business offering and pushing the boundaries of super-sized applications," Oscar Stucchi, President of Sismaprint has been reported as saying. "The ability to elevate our existing applications to new heights has seen us increase our customer base and enter the promotional, event and interior decorating markets."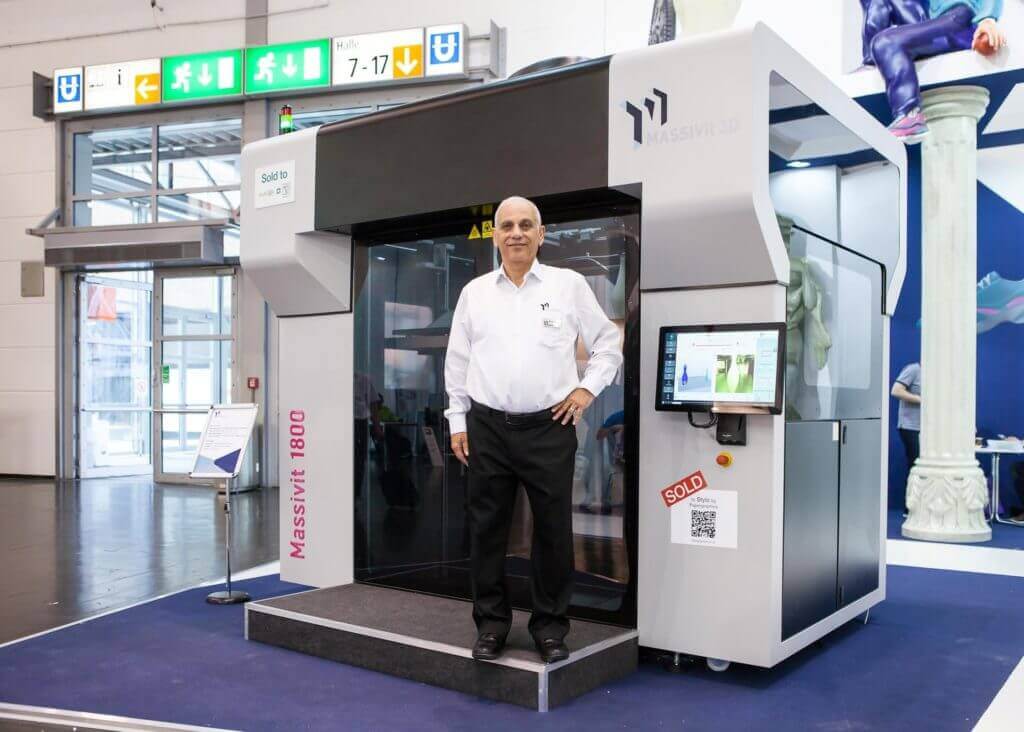 According to Avner Israeli, CEO, Massivit 3D Printing Technologies, the immediate impact that the Massivit 1800 3D Printer brings on its customers' ability to grow their business, reflects its ability to successfully fill a technology gap in the market. "Additionally, it demonstrates that brand or marketing managers within their own customer base are always seeking to maximise their budgets and add as much WOW-factor as possible to their campaigns," he averred.
Israeli reiterated that the development of this printer has seen us essentially 'reinvent 3D printing', with the creation of a new proprietary technology, GDP – Gel Dispensing Printing. Crucially, this enables instant solidification and high-speed printing, at the core of which is the unique printing gel, Dimengel. "This, coupled with other special techniques, allows the Massivit 1800 to print very fast, very large and print non-vertical walls and ceilings, without the need to produce a full solid object or build intensive support structures," he added.
Evolution of 3D Printing – From Prototyping to Giant Modelling
3D printing that was primarily aimed at transforming production processes within the manufacturing world and kept growing steadily over the last three decades into making that change; has now technically grown-up big and evolved to present viable application opportunities for the large format/sign sector.
The technology that was revolving around prototyping and short run manufacturing went on to developing final/end-use parts and production line tooling, has evolved steadily over the period, widening the segments and markets. But it was only in the recent times that it really made a name for itself as a technology to revolutionise the way things are made, presented and perceived.
"All this can be attributed largely to the unprecedented print speeds and ever-increasingly advanced printing materials. These, coupled with progress in 3D modelling tools and other developments is what enables it to serve different and varied needs of its users. As 3D printing is an additive process it creates a very efficient and cost-effective alternative to traditional manufacturing methods. Likewise, for the traditional printing industry, 3D print has the flexibility, speed and price point to unlock the yet to be tapped creative opportunities and thus drive profitable growth for its customers," elaborated Israeli.
This is also true of the traditional 2D large format sector, which over time, evolved and reached higher speeds, improved output quality and an ever-expanding range of printable substrates. For 3D printing is a technology that has only just arrived in the graphic arts sector, the time is ripe to seize the day and take a lead by differentiating service capabilities and adding a new dimension to the existing businesses.
Israeli opined that the way the technology has been evolving generally in other sectors is probably a good barometer for where things might eventually be headed. "I would, therefore, be surprised if in a few years, we were not seeing additional 3D applications that we have yet to even envisage. What's more, these will likely be created with even higher speeds, greater build size and possibly extended material options that will take the large format/sign sector further still into uncharted territory."
So, how Massivit 1800 boosts Large Format/Sign & Display Businesses!
Israeli asserts that Massivit 1800 offers something different, something new. "It enables the creation of vibrant, eye-catching, 3D printed sign & display projects beyond those that can be achieved with 2D large format printing solutions. With the capability to very quickly produce high quality 3D pieces up to 1.8m/6ft high, Massivit 1800 is able to dramatically increase print speed, while also reducing material costs and product weight – pivotal for additional materials handling, transportation and storage benefits."
For the owners of large format print and sign businesses, it could potentially unlock the door to new businesses. "The printing industry remains a difficult environment in which to operate and the need for higher impact output than the next provider will be a perpetual goal for those at the sharp-end. This is familiar ground for large format print providers, so the ability to differentiate your offering and enhance your applications gamut to your valued customers will always stand you in good stead in the quest to maintain existing customers and win new ones," he explained.
It goes without saying that brand and marketing managers keep exploring ways to maximise their budgets with as much WOW factor as possible. "The ability to offer attention-grabbing, added-value visual communications that better engage target audiences achieves this. Moreover, it makes engaging – and subsequently keeping – such customers much easier. No wonder, Massivit 3D expects it to transform the way high-level marketing, advertising and themed projects are created," anticipated Israeli.
Does Physical Signage Impress The Audience!
Despite a rapid transition towards a world of digital advertising, businesses must have to carry on their traditional way to attract their target audience as physical signage helps bringing in customers. Since signage works both ways – branding as well as advertising, it actually helps brands to live for longer than usual in the minds of passersby. Considering the fact that it enhances customers' recall for brands, it would remain there as one of the most important marketing strategies for corporates.
Going forward, selection of location for the signage to be fixed becomes extremely important as people have the habit of relating any such thing with location. Signage automatically gets connected with space as whoever drives by that location will begin to relate the location with the brands and would identify that who you are and what you have to offer. They inadvertently become one among the newly developed local clientele.
Physical signage is among the most important elements of visual communication that helps the audience relating themselves to the brands, besides creating a local identity for them. Industry experts believe that this visual communication provided by on-premises business signage is essential for the efficient function of the system of commerce and the success of many businesses.
Does the Size of Physical Signage Matter?
It is generally perceived that bigger is not always better when it comes to signage, but sometimes having a sign that is too big can be the actual attraction for grabbing passersby's attention. It's a fact that when signage is losing its sheen to the digital advertising, some radical change in the presentation certainly brings the brands back in the limelight by turning it to become the talk of the time. But in all this, the message of the brand must not get deteriorated.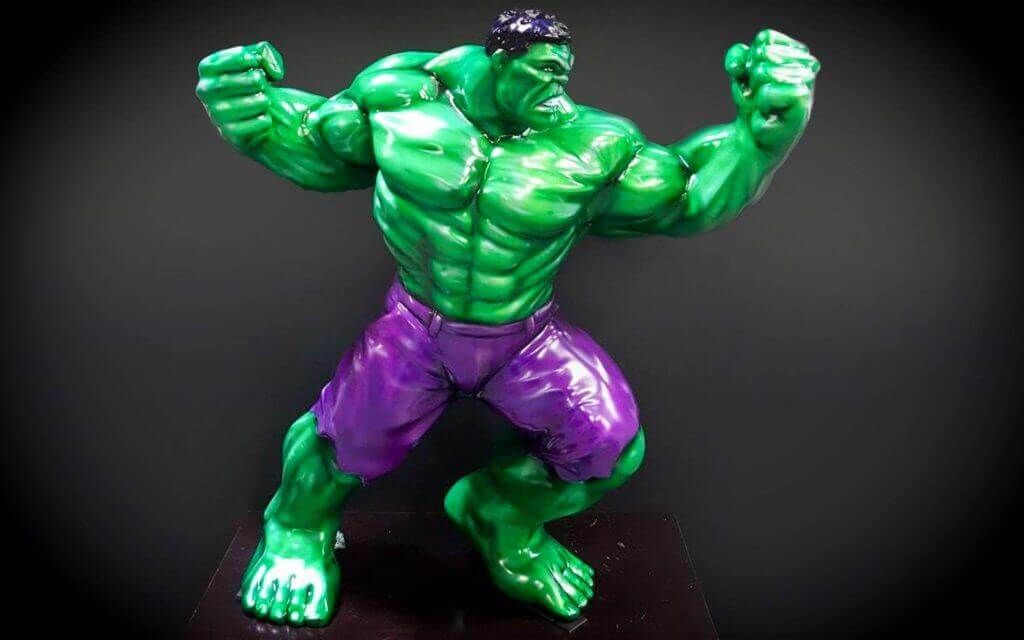 According to numerous studies on marketing & branding, it has more than been established that signage is inevitable because it is an advertising and branding tool that can generate an additional 75% to your customer base and referrals. This is all possible when sizing and location are carefully worked out. This is also a kind of big support to the brand's digital communication that allows commuters or the clientele to compare and relate the changes happening on the digital world to communicate about the technological changes.
Massivit 3D – Soon To Make A Mark on the Indian Turf
It's around a year now that Gujarat-based Arrow Digital Pvt. Ltd. joined hands with Massivit 3D Printing Technologies Ltd. to market its flagship Massivit 1800 in the Indian subcontinent. Happens to be the only distributor in this part of the world, Arrow is soon going to bring the much-hyped 3D printer to its Demo Centre in Ahmedabad where it has plans to invite all the prospective customers/buyers for a demo.
Considering it as the next revolution in advertising after digital printing, the Massivit 1800 system – the largest, fastest and most advanced large format 3D printing solution – is expected to ignite the market explosion in the use of large 3D objects.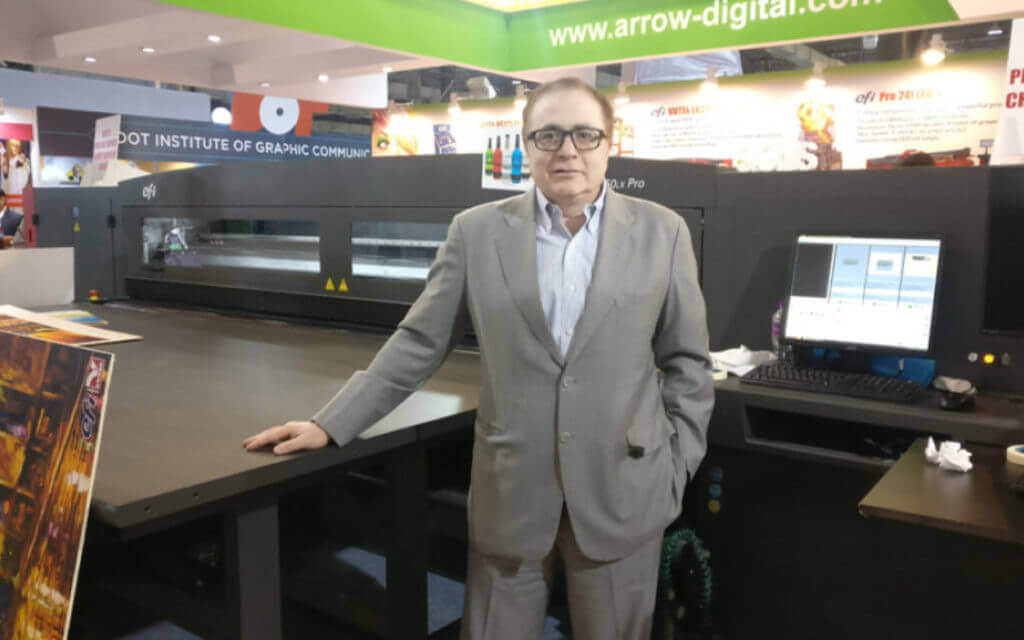 "The market is ready and people are looking for 3D POP solutions. But they are hesitant about taking initiative. We are bringing the machine to our demo centre in Ahmedabad, hopefully in this quarter itself. We do have plans to throw some job works into the market to create demand," said Sam Patel, Arrow Digital's Managing Director. "Undoubtedly, it's very creative machine and would transform the way POP is perceived currently. Once the machine is put here on the demo, it would certainly create the demand for itself."
Massivit 1800 is unique in itself because of it being the only and the fastest large format 3D printer that can print objects up to 1.8m/6ft high and grow them at up to 35cm/1ft per hour. The system also comes equipped with dual process option, which allows for easy printing of two different objects in parallel. Last, but not least, it offers economical 3D printing as its special software features and it's 'support-less' printing results in fairly low material consumption.
"The Massivit 1800 printer enables the creation of large 3D objects in a variety of markets worldwide. It allows print service providers, scenic fabricators and 3D service bureaus to produce unique, customised, unmatched large format 3D figures for a range of usage in advertising, events design, theming of environment and the like," Patel explained.